Bridal Shower The Price is Right
Download printable bridal shower the price is right listing. For more similar games templates, browse our free printable library. Simply download and print them at home or office.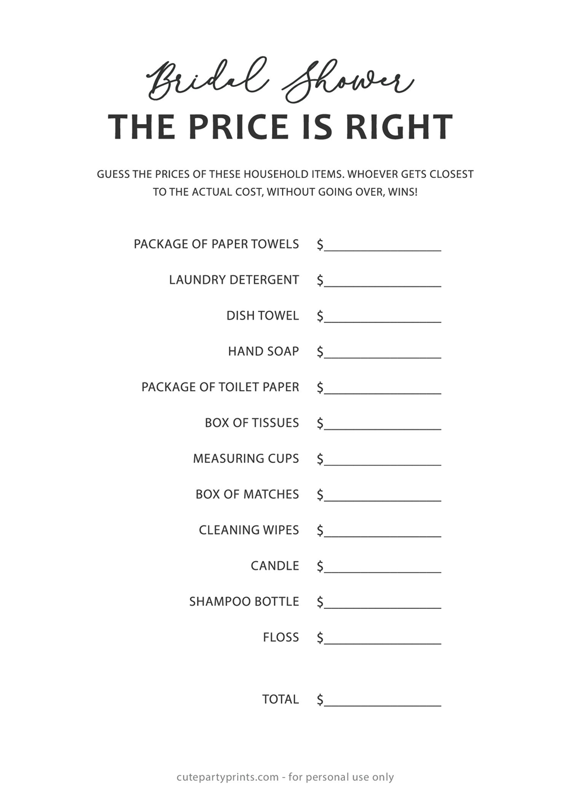 Download free printable Te Price is Right for your bridal shower party. Guests have to guess the price for each item listed on these printable sheets. After you are done playing, you can gift these items to the newlyweds.
How to play The Price is Right Bridal Shower Game?
The Price is Right is a fun bridal shower game that your guests are sure to enjoy! You will need the following supplies to play this game.
SUPPLIES:
Printable The Price is Right Game
Pens or Pencils
Prizes (for the winners)
How to play?
You can play this game when the guests are gathered in one place. Here are simple steps to play this fun game.
Before starting this game, make a quick trip to your local store and purchase the items listed on these printable sheets. Make sure to save the receipt to refer to later.
Put these items on display where everyone can see them - on the center table or shelf.
Pass the printable The Price is Right sheets and pens or pencils to the guests.
Set and start the timer when everyone is ready to play.
Ask them to write the prices for each item. Write the total as the sum of all these items.
Check all the answers, referring to the receipt. The person with the closest answer, without going over, wins!
Once you're done playing this game, you can gift these items to the new couple. Check out these Bridal shower games to make your next party memorable and fun!
Bridal Shower The Price is Right