Baby Shower Bingo is a perfect addition to a baby shower games party. Keep your guests entertained for hours while making beautiful memories. All you have to do is download, print, and play.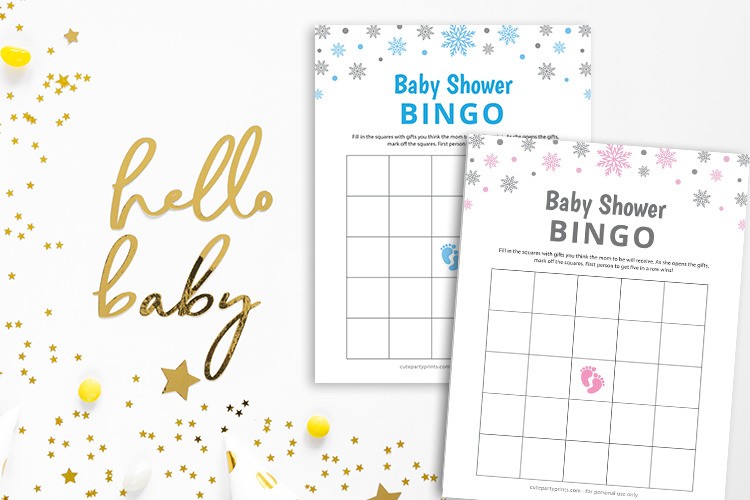 This post contains affiliate links and we will earn commission if you buy the products through those links. For more information, please read our disclosures here
Make your next baby shower fun and memorable by including some baby shower bingo games! There are a plethora of different games to choose from, and they all range in difficulty level as well as how many people can join. You can choose to play with blank bingo cards or prefilled bingo with words related to baby and parenting. The possibilities and combinations are endless!
How to play baby shower bingo?
Supplies:
To play this game:
Pass the printable baby bingo cards and the pens or pencils among the guests.
Ask them to fill the squares with the gifts they think the mom-to-be will receive.
Once everyone is done filling their bingo boards, ask the mom to be to start opening the gifts.
As she opens the gifts, guests who have written those gifts on their bingo cards can cross them off.
The person who gets five in a row – vertically, horizontally, or diagonally (including the free space in the center) shouts BINGO and wins!
Baby shower games are always fun to play and keep guests entertained. They can help to make the event more enjoyable and provide a way for guests to interact with each other. In addition, they can help to create memories that will last long after the baby shower is over. Baby bingo games are also no prep and no mess game so you don't have to do any major preparations. All you have to do is download a blank or prefilled baby bingo and print it.
There is a common misconception that people get bored very easily at parties. The truth is, these people are not actually bored; they are simply used to having visual distractions. Baby bingo gives people something to focus their attention on while still allowing them to talk with each other or simply observe what the other guests are doing. Your guests will love a game or two of Baby Shower Bingo!
Printable baby shower bingo
Baby bingo is a game where players try to get five squares in a row. There are many different types of bingo like blank baby bingo, prefilled baby bingo, or picture bingo. Baby bingo games are one of the most popular baby shower games that anyone can play without having to follow complicated instructions.
You can select different types of games depending on your needs, such as how many people you have attending the baby shower or what type of difficulty level you would like.
Blank Baby Shower Bingo Cards Printable
When mom-to-be is ready to open the gifts, simply hand out the blank bingo cards and a marker to each of the guests.
Gender Neutral Baby Bingo Cards Printable
Minimalist baby bingo cards if you are planning on throwing gender neutral baby shower party. These bingo cards printable will go with any theme, whether it's Fall themed baby shower or snowflake baby shower.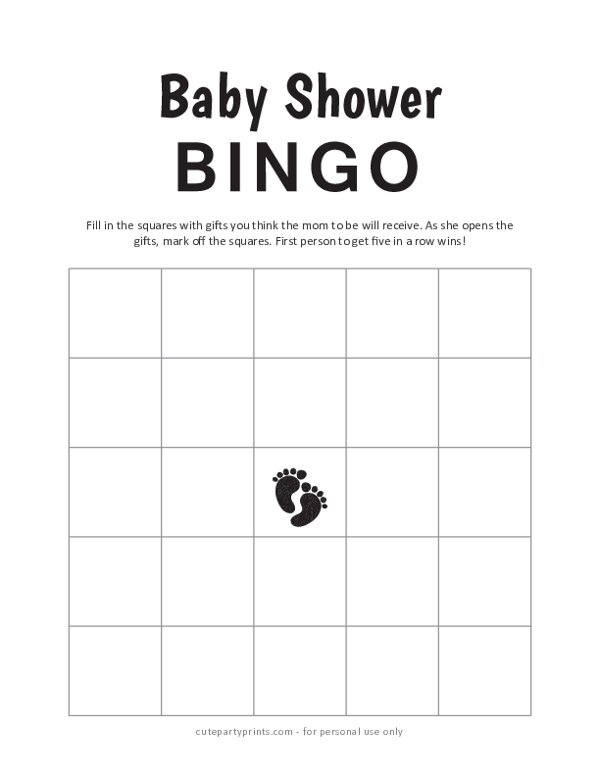 Girl Baby Bingo Cards Printable
Pink baby bingo cards if you plan on throwing girl baby shower party.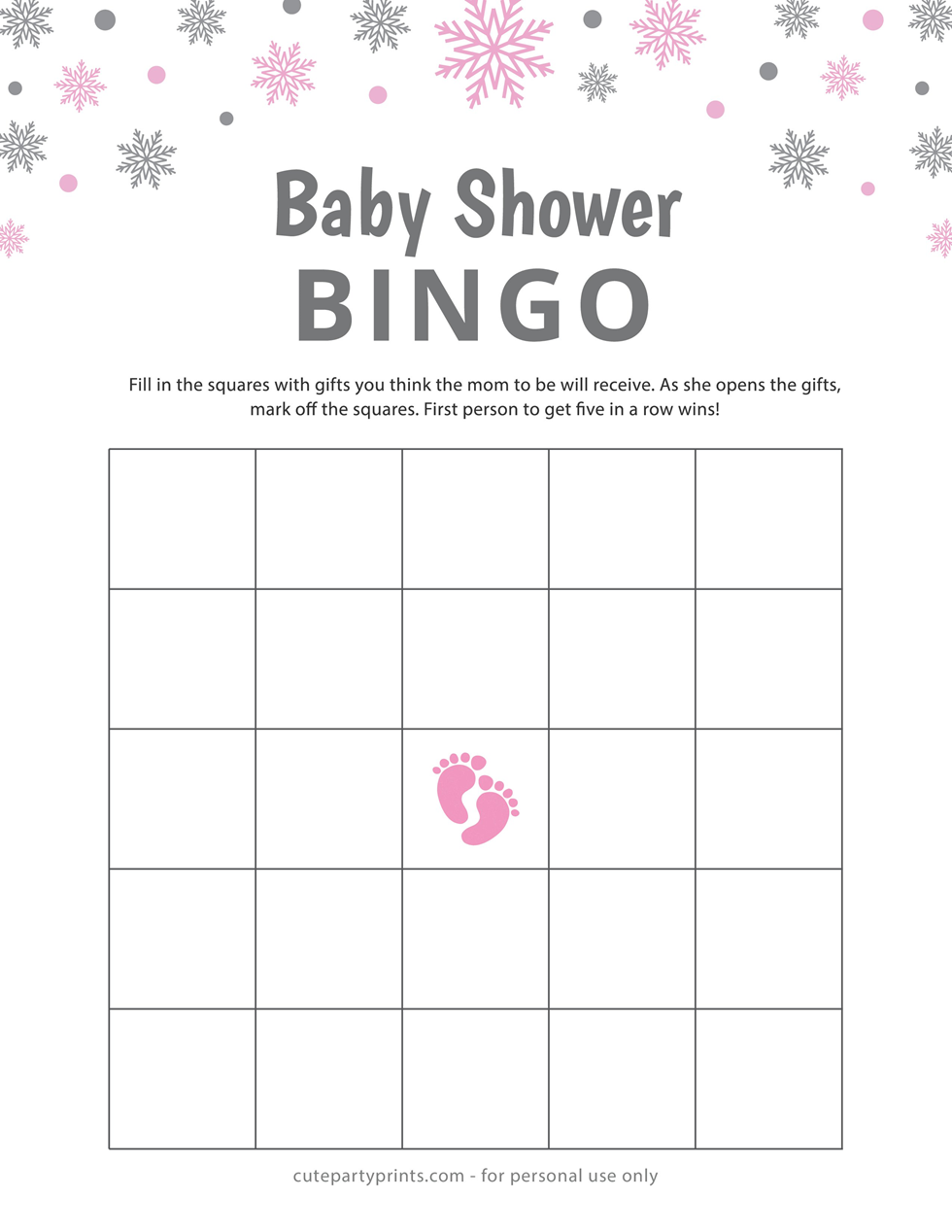 Boy Baby Bingo Cards Printable
Blue baby bingo cards for boy baby shower party. Perfect to go with a blue themed party.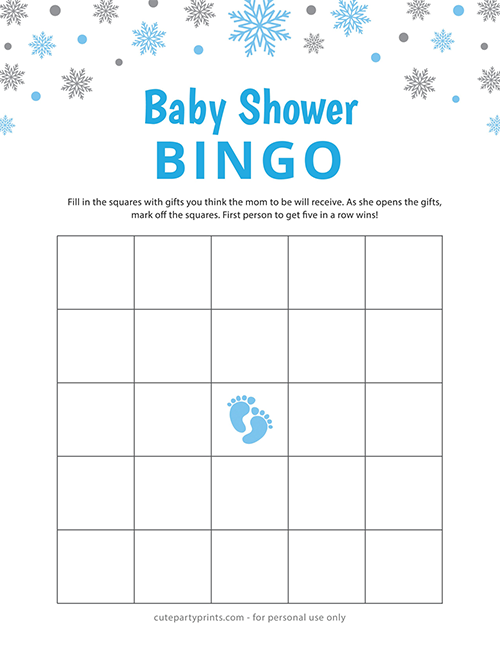 Have the guests fill out the gift items they think the mom-to-be will receive. As she opens the gifts, guests mark off the corresponding item written in the squares that match that gift item. Whoever gets five in a row – horizontal, vertical, or diagonal – wins a prize.
Prefilled Baby Bingo Cards Printable
Prefilled bingo cards printable come with gift item words already filled in the squares. The calling sheet that comes with this game has the words listed.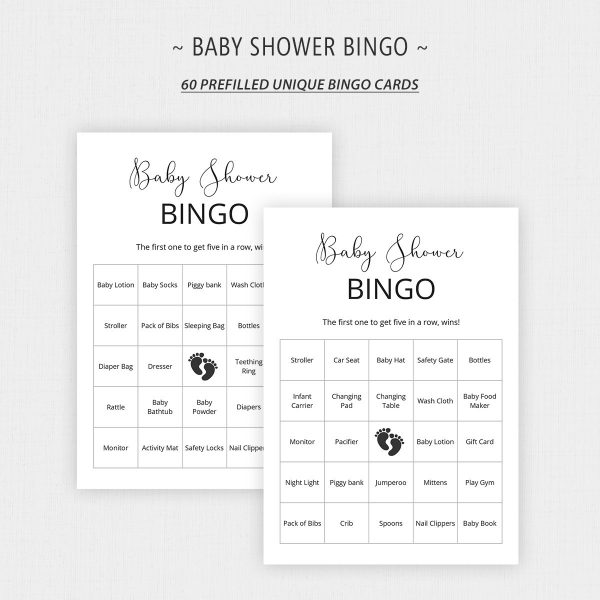 Download, print, and distribute the prefilled bingo cards to the guests. As those gift item words are called out loud from the calling sheet, guests check off that item in the square. The first one to get five in a row wins.
Make your own Bingo
You can even make your own bingo. To customize the words list and text on the top, simply click on the "Edit/Customize" button.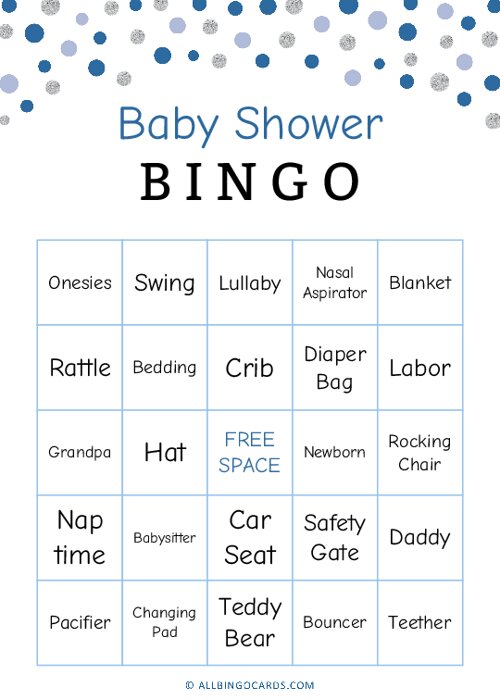 You will be able to edit the Title, Subtitle, Words List, Grid Size and so many other options available on this page. Set it as per your requirements for a boy baby shower, girl baby shower, or gender neutral baby shower. You can print up to 12 bingo cards for free.
In case you are looking got more Baby Shower Games …
In addition to baby shower bingo, you can play other fun games like Baby Shower Word Search, Baby Shower Word Scramble, How big is Mommy's Belly, and Baby Due Date Game.
Planning a baby shower can be quite stressful, and playing such games can get some stress off during the event and you can pay attention to other details while your guests are getting entertained.
These games are a fun activity for guests to enjoy during the party. They're also a great way to keep them busy and engaged while you prepare food or clean up from dinner. You don't need any fancy or expensive supplies to make these bingo boards.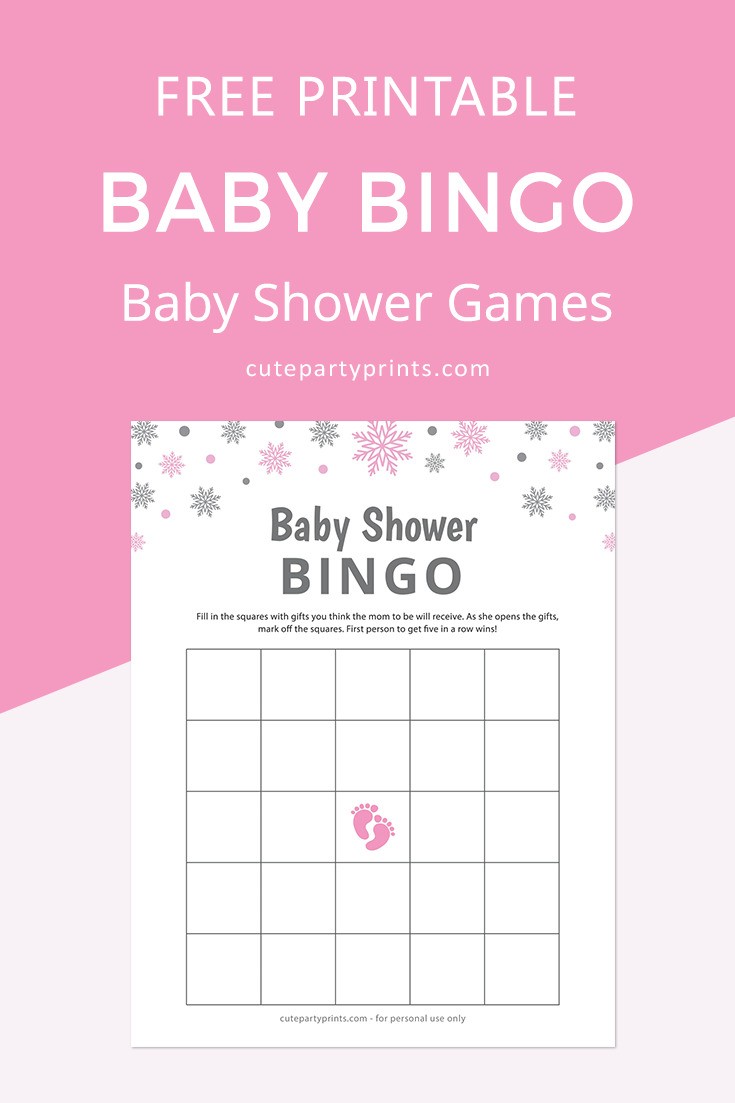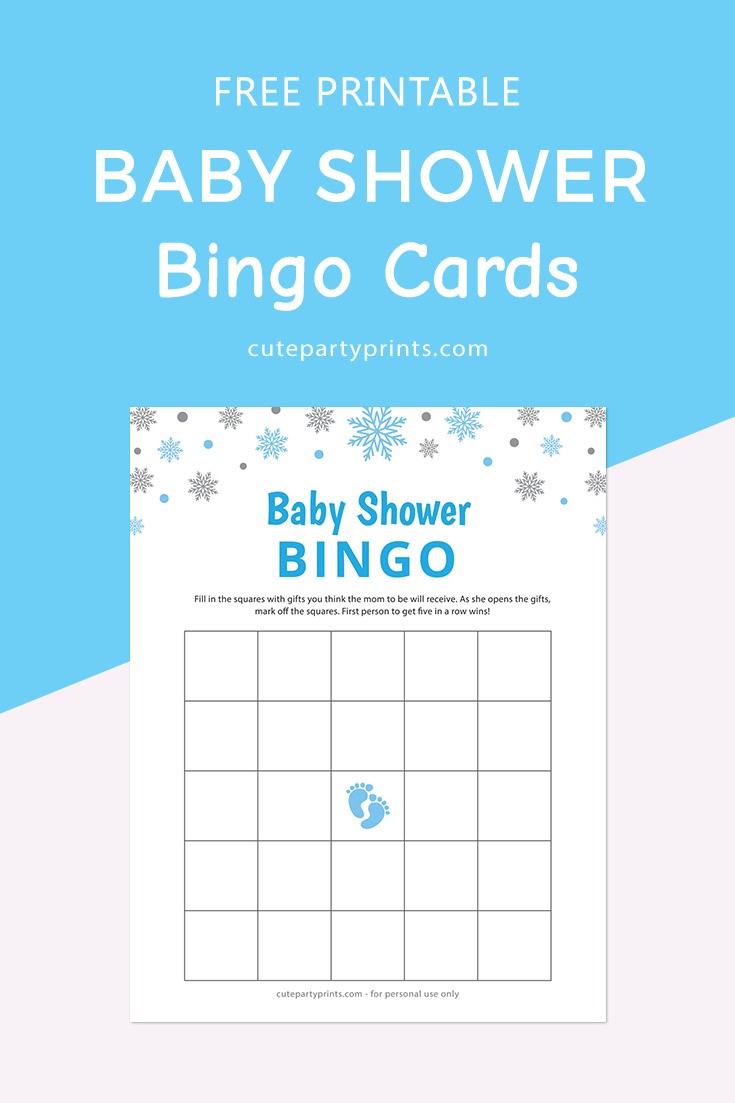 What are your favorite baby shower games? Please share in the comments below!