Free Printable Baby Shower Nursery Rhyme Game
Baby shower nursery rhyme game is sure to keep your guests entertained for hours. They will enjoy answering these nursery rhyme questions. The person with the most correct answers wins!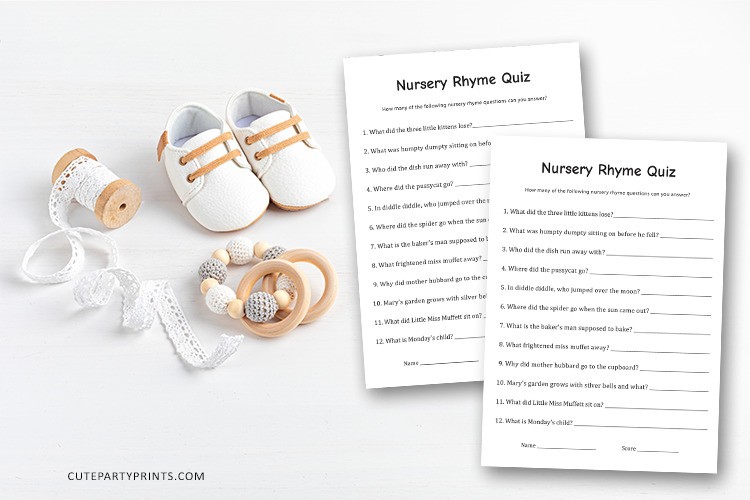 This post contains affiliate links and we will earn commission if you buy the products through those links. For more information, please read our disclosures here
Planning a baby shower? This Nursery Rhyme Game will add a special touch to your event. Guests will have a blast trying to answer questions included on these printable cards.
FREE PRINTABLE NURSERY RHYME GAME
These free printable game cards make for memorable keepsakes for parents.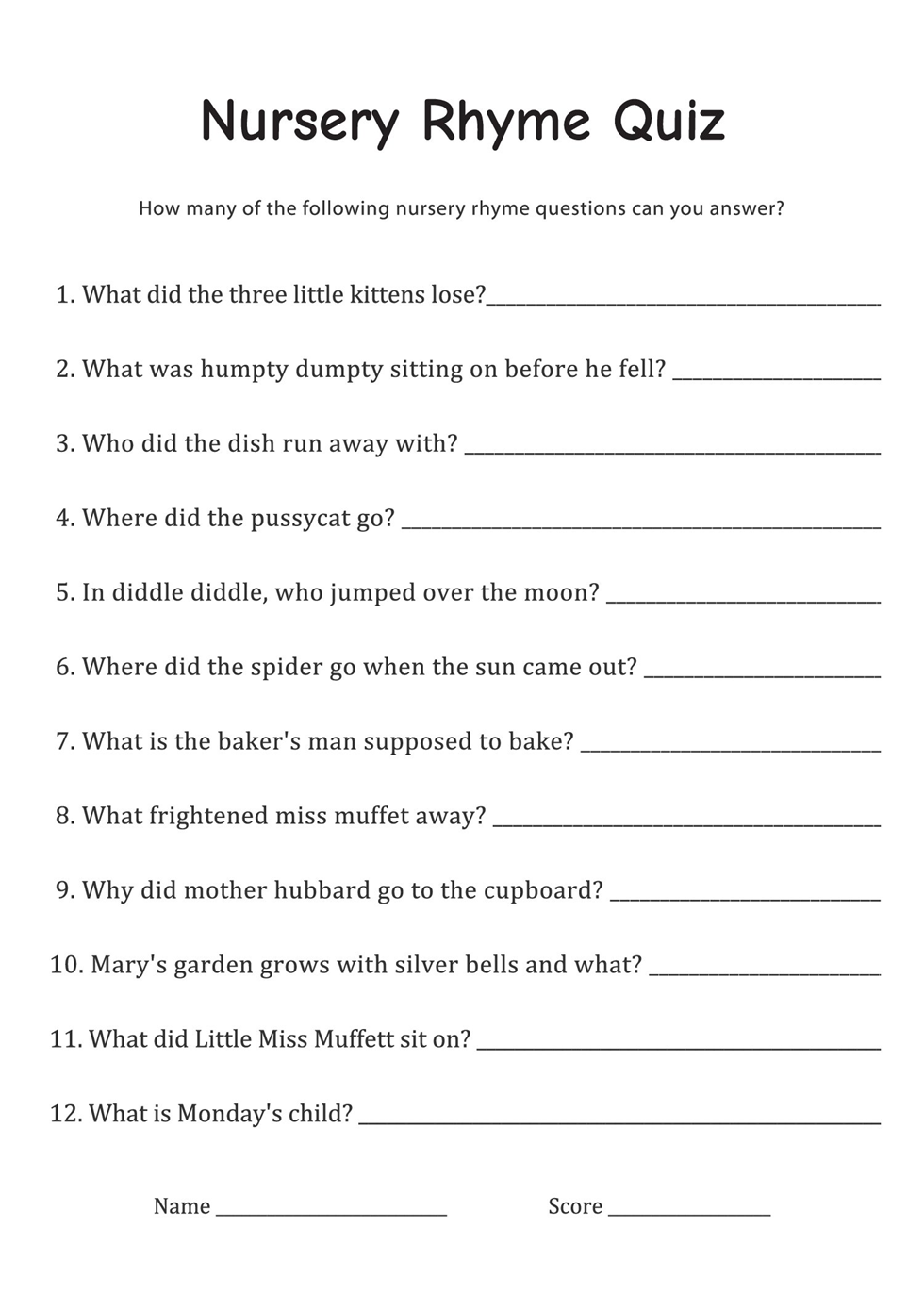 Print out these baby shower nursery rhyme game printable cards and hand out each to your guests. They will need to write the answers to the nursery rhyme questions.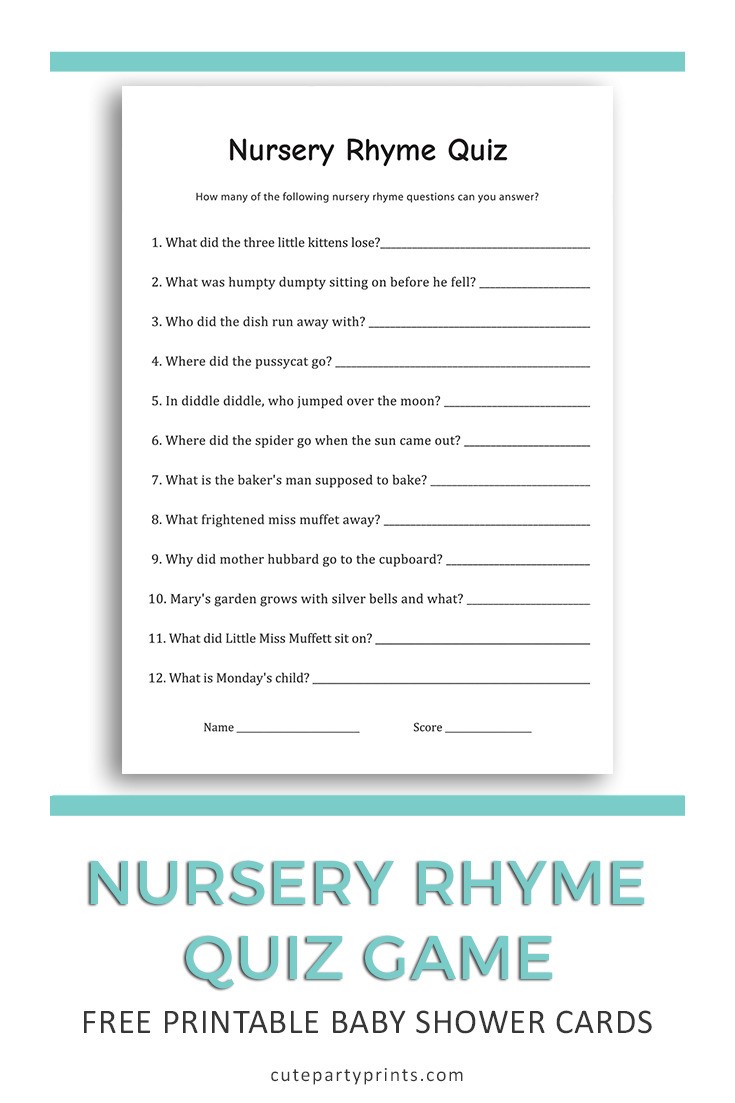 Baby Shower Nursery Rhyme Quiz Questions
These are questions are included in this printable game:
1. What did the three little kittens lose?
2. What was humpty dumpty sitting on before he fell?
3. Who did the dish run away with?
4. Where did the cat go?
5. In diddle diddle, who jumped over the moon?
6. Where did the spider go when the sun came out?
7. What is the baker's man supposed to bake?
8. What frightened Miss Muffet away?
9. Why did mother hubbard go to the cupboard?
10. Mary's garden grows with silver bells and what?
11. What did little Miss Muffett sit on?
12. What is Monday's child?
How to play Nursery Rhyme Game?
To play this no prep game, you will need:
Directions:
Print the nursery rhyme game cards on thick card stock paper.
Distribute printable cards and pens or pencils among the guests.
They have to write the answers to these nursery rhyme questions.
To make it more exciting and challenging, set the timer and see who finishes first.
Whoever gets all the correct answers wins and gets the prize!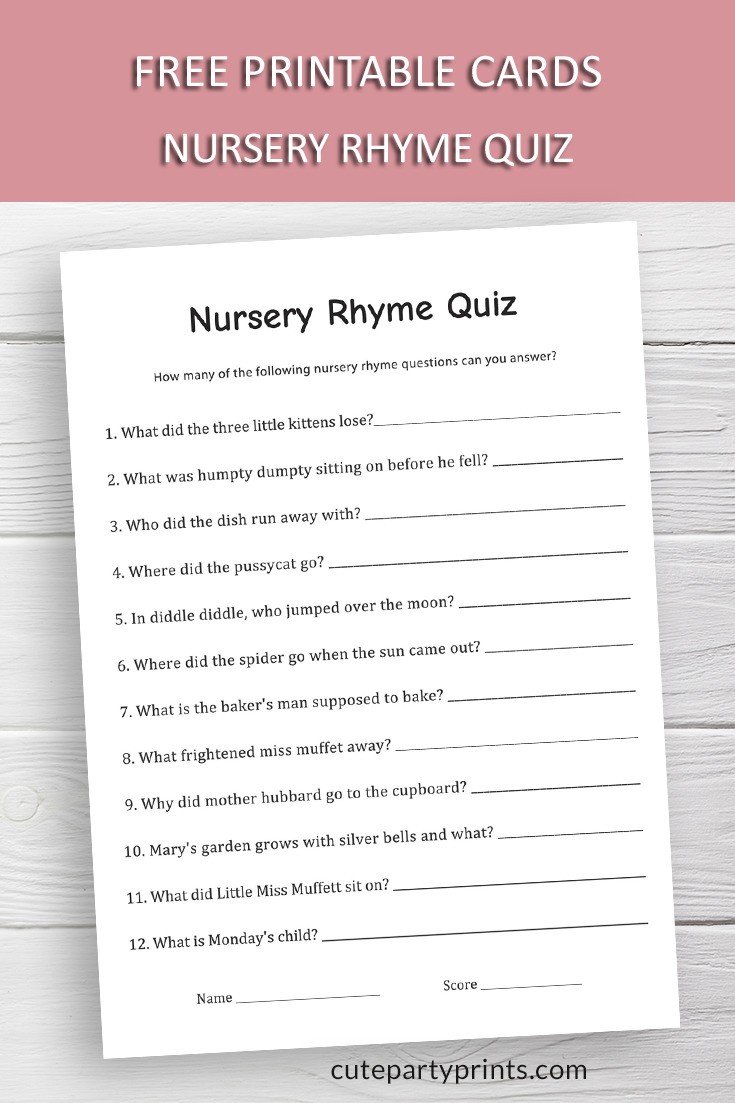 This no prep and no mess trivia game is sure to be a hit among your guests.
Have fun at your baby shower!