What's in your Purse Game
Download printable what's in your purse game listing. For more similar games templates, browse our free printable library. Simply download and print them at home or office.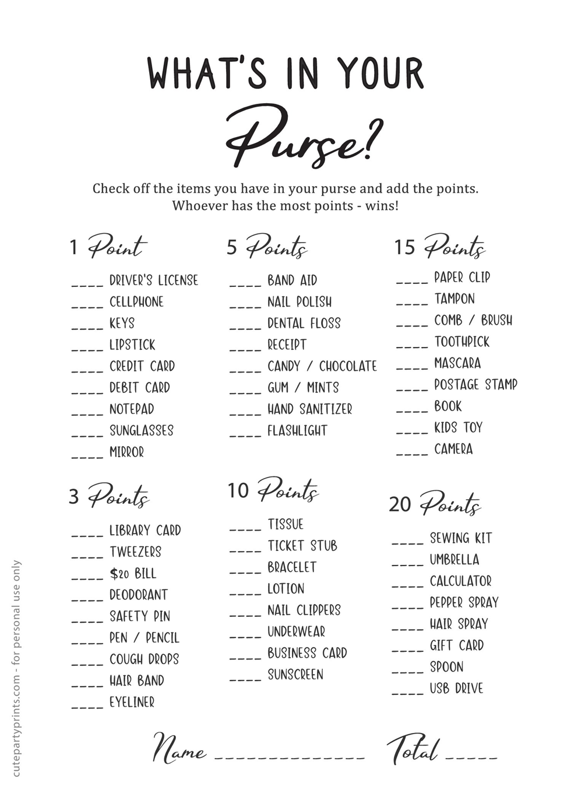 What's in your Purse Bridal Shower Game in a fun and interactive game that is sure to be a blast among your guests. Also called Purse Raid game, this Scavenger Hunt style game will make your event memorable among all the guests.
Free Printable What's in your Purse Game?
Now that you decided to include this game in your bridal shower party,
How do you play this game?
Well, it's very easy to play. All you need is a handful of items that are available at home. No fancy or expensive supplies are required.
To play this game, you will need these supplies.
White Cardstock Paper
Printable Game Sheets (Download at the end of this post)
Pens or pencils,
Prizes for the winners.
How to play What's in your Purse Game?
Print the What's in your Purse Game sheets.
Distribute among your guests.
They can either go through each item on the sheet and write the point score corresponding to each item.
Alternatively, you can create your own list of items and call them out one by one.
The guest with the most points wins!
Make it exciting by setting the timer. Players have to finish raiding their purses or bags before the time runs out.
This is going to be one hilarious and memorable evening well spent with your friends. Random things that will come out of the purses will have everyone bursting with laughter.
What's in your Purse Game Items List
You are free to download this printable or make your own. Many people want a simple list rather than a big one with lots of items. If you wish to create your own list, here are examples of some of the items you can include in your list.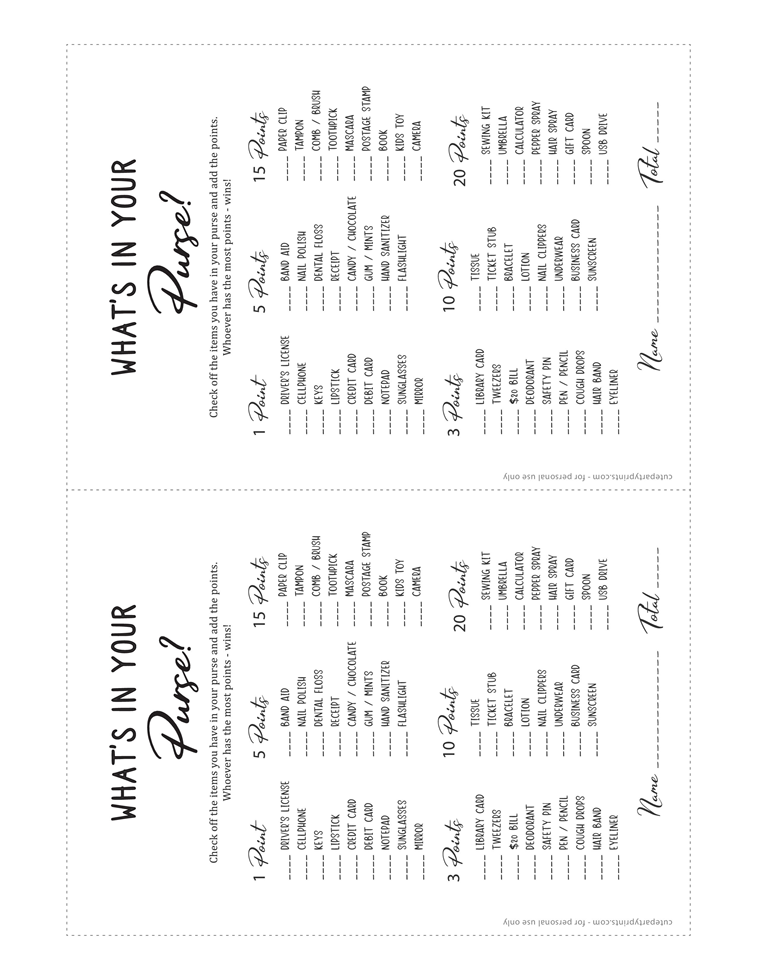 These easy to find items can be assigned 1 Point:
Driver's License
Cell Phone
Keys
Lipstick
Credit Card
Debit Card
Notepad
Sunglasses
Mirror
Following items can be assigned 3 Points:
Library Card
Tweezers
$20 Bill
Deodorant
Safety Pin
Pen / Pencil
Cough Drops
Hair Band
Eyeliner
Assign 5 Points to these items:
Band-Aid
Nail Polish
Dental Floss
Receipt
Candy
Mint
Hand Sanitizer
Flashlight
Tissue
Bracelet
Lotion
Business Card
Paper Clip
Toothpick
Book
Sewing Kit
Umbrella
Gift Card
And so on. Items that you may think are so random and hard to find can be assigned the highest scores.
Make sure to check out more bridal shower games to include in your event.
Other names for this game
This game is also called:
Purse Scavenger Hunt
Purse Raid Game
What's in the Bag?
What's in your Purse?
More Bridal Shower Games
If you are looking for more bridal shower games, you can download and print:
What's in your Purse Game