How well do you Know the Bride?
Download free printable How well do you Know the Bride?. For more similar Games templates, browse our free printable library. Simply download and print them at home or office.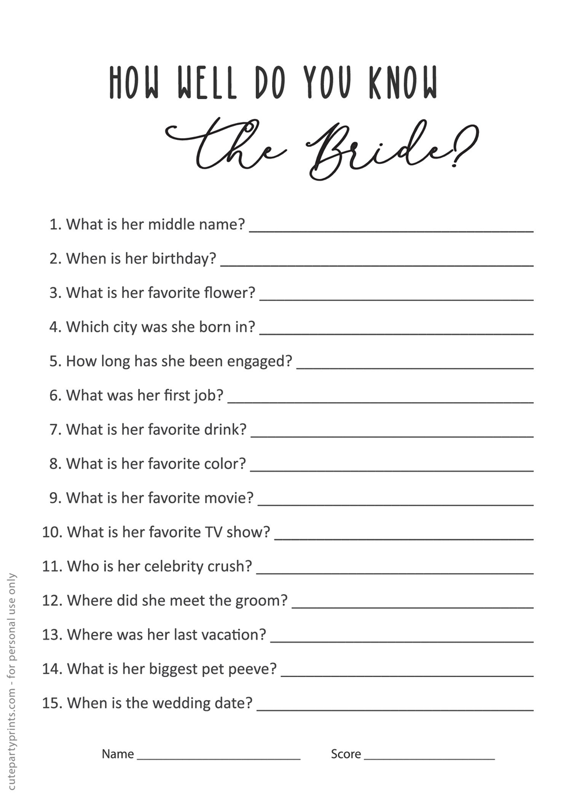 How well do you know the Bride - is a fun and interactive bridal shower game. Guests will have a blast trying to answer the questions about the bride.
Do you know the bride like the back of your hand? Put your knowledge to the test with this fun bridal shower game! Whether you're a guest at a bridal shower or the hostess, you're sure to have fun playing this quiz style trivia game.
If you are looking for a baby shower game, you can download and print this Who Knows Mommy Best Baby Shower Game.
How to play How well do you know the bride?
This game is perfect for getting to know the bride better and testing your knowledge of her life thus far.
Before starting this game, give this printable sheet to the bride and have her answer the questions. It will help to match the guest's answers with the bride's answers and find out the winner at the end of this game.
How to play?
To start playing,
Distribute the printable game cards, along with pens or pencils among the guests.
Instruct them to answer these questions about the bride.
To add to the excitement, set the timer and start when everyone is ready to play.
Once guests are done answering the questions or the timer goes off, have them exchange their game cards with their neighbors.
Go through each question one by one as everyone checks their game card and marks the correct answers.
The person with the most correct answer wins!
If you have more than one winner, either give everyone the prize or have a tie breaker question.
What are some tie breaker questions for the bridal shower game?
You have to ask a tie breaker question when you have more than one winner. You can either give all the winners the prizes or ask them a tie breaker question. Whoever yells the answer first will be the winner.
What kind of car does she drive?
What is the color of her car?
What is her favorite perfume?
What is her favorite restaurant?
What is her shoe size?
Who was her first roommate?
What is her favorite snack?
Make sure to get the answer to these tie breaker questions as well from the bride.
How to print How Well do you know the Bride printable game?
These printable games are designed to be printed on US standard letter size paper. Finished size of each game card is 5x7 inch so you can conveniently print these at home with two per letter size paper.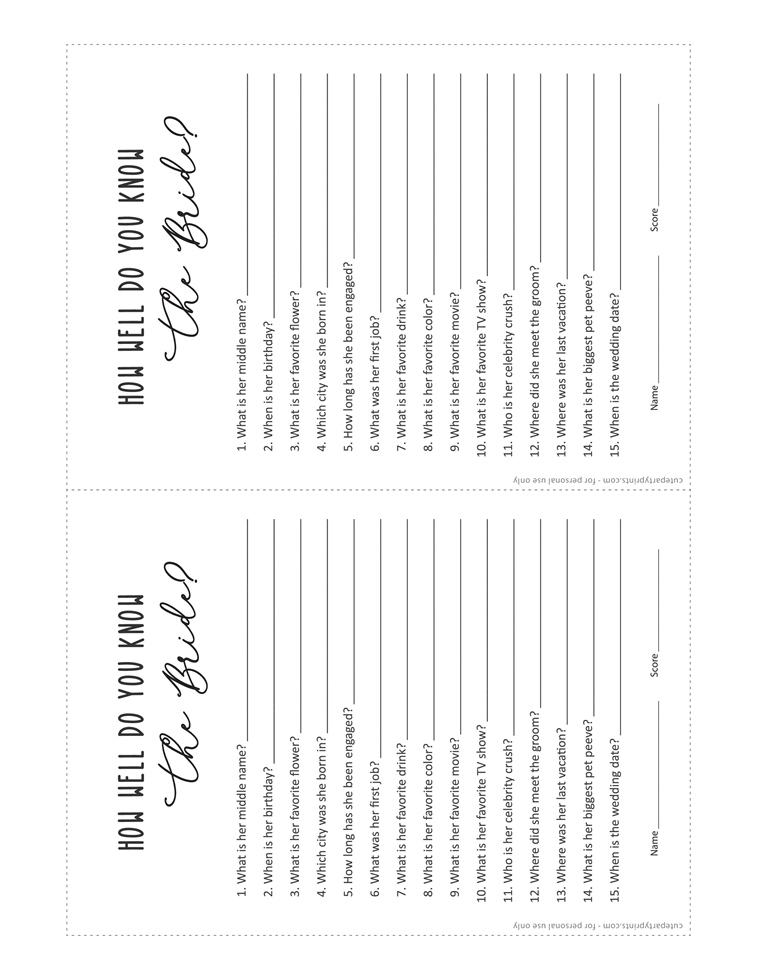 Check out our other bridal shower games, too to make your event even more fun and memorable!