He Said She Said
Download printable he said she said listing. For more similar games templates, browse our free printable library. Simply download and print them at home or office.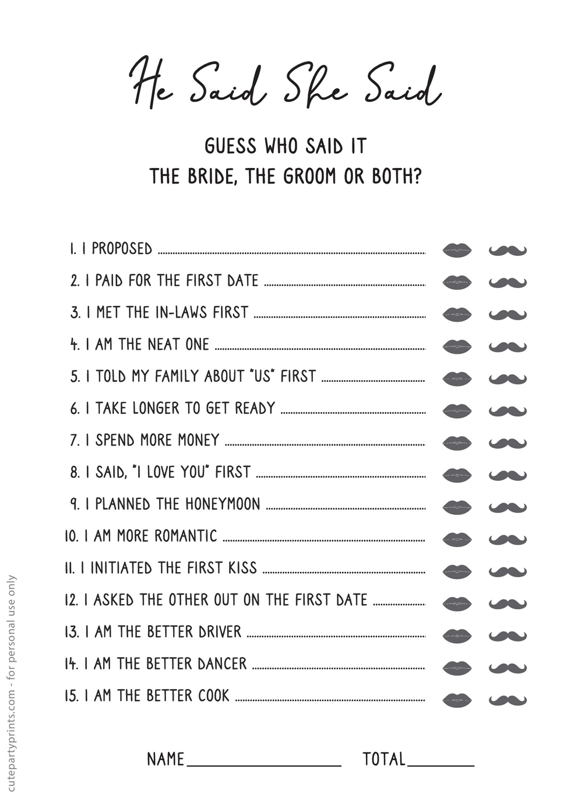 He Said She Said bridal shower game is one of the engaging and interactive games that your guests are sure to enjoy. They will have a great time answering the questions about who said or did the things listed on these printable sheets.
How to play He Said She Said?
To play this bridal shower game, you need to download and print these printable game cards, pens or pencils, and a prize for the winner. Prize can be optional but it will be nice to have one. Even get 2 - 3, in case you have multiple winners.
Directions
Before you start playing this game, get the new couple to fill in the answers for each of these items. Whoever said or did the things first, will circle around the respective image.
For example, if the groom proposed first, they will circle the mustache. If the bride was the one to tell her family about their relationship, they will circle the lips. If they both think they were the ones who did something first, or they can't agree on something - they can circle both the lips and mustache.
Now that you have the answer sheet from the couple, you can start with the game. Print the copies of the game cards and hand them over to the guests, with pen or pencil. Set the timer if you wish. Once the timer starts, guests can start filling in their answers.
When everyone is done answering, they can swap the game cards with one another and check how many answers each player got correctly. The person with the most correct answers wins!
He Said She Said Items List
You are free to download this printable. You can make your own list as well. Here are some of the items included in our printable sheets:
I am more romantic
I am the better cook
I am the better dancer
I am the better driver
I am the neat one
I asked the other out on the first date
I initiated the first kiss
I met the in-laws first
I paid for the first date
I planned the honeymoon
I proposed
I said, "I love you" first
I spend more money
I take longer to get ready
I told my family about "us" first
What a fun and memorable game to play at a bridal shower party.