Two Truths and a Lie Bridal Shower Game
Download printable two truths and a lie bridal shower game listing. For more similar games templates, browse our free printable library. Simply download and print them at home or office.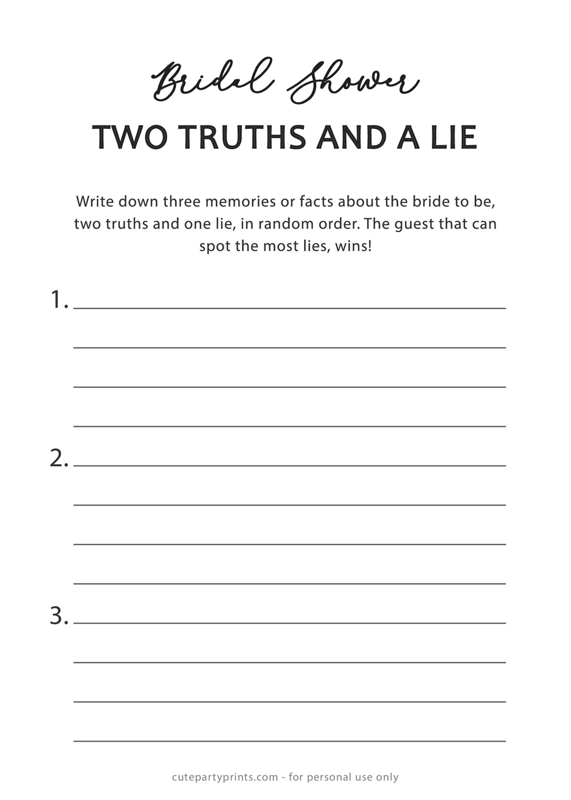 Two Truths and a Lie is a classic party game where everyone tells three stories about the bride to be, two of which are true and one of which is false. Guests then have to guess which story is the lie.
This makes for a great bridal shower game because it's fun, easy to play, and can be tailored to fit any group size. Plus, it's a great icebreaker if you have guests who don't know each other well.
To make things even easier, we've created a printable version of the game that you can use at your next bridal shower. Just print out the cards, cut them out, and you're ready to go!
How to play Two Truths and a Lie Bridal Shower Game?
Get to know the bride-to-be a little better with this fun bridal shower game!
Print out our Two truths and a lie bridal shower game printable and have each guest write down two true facts about the bride and one false fact.
The guests will then take turns reading their three statements and see who can guess the lie!
When someone guesses the lie correctly, they get one point. However, if no one can guess the lie, the storyteller gets a point.
The person with the most points at the end of the game wins!
Just a few things to keep in mind
Make sure to give some extra time to guests before you start playing this game. They may need to think of stories, anecdotes or incidents from the past.
Inform your guests to keep stories PG13 to save the bride to be from embarrassment. Since all age groups are gathered at such events. Co-workers, elderly relatives, in laws - the bride to be may not want the stories from the past to be shared with certain group in her family or friends.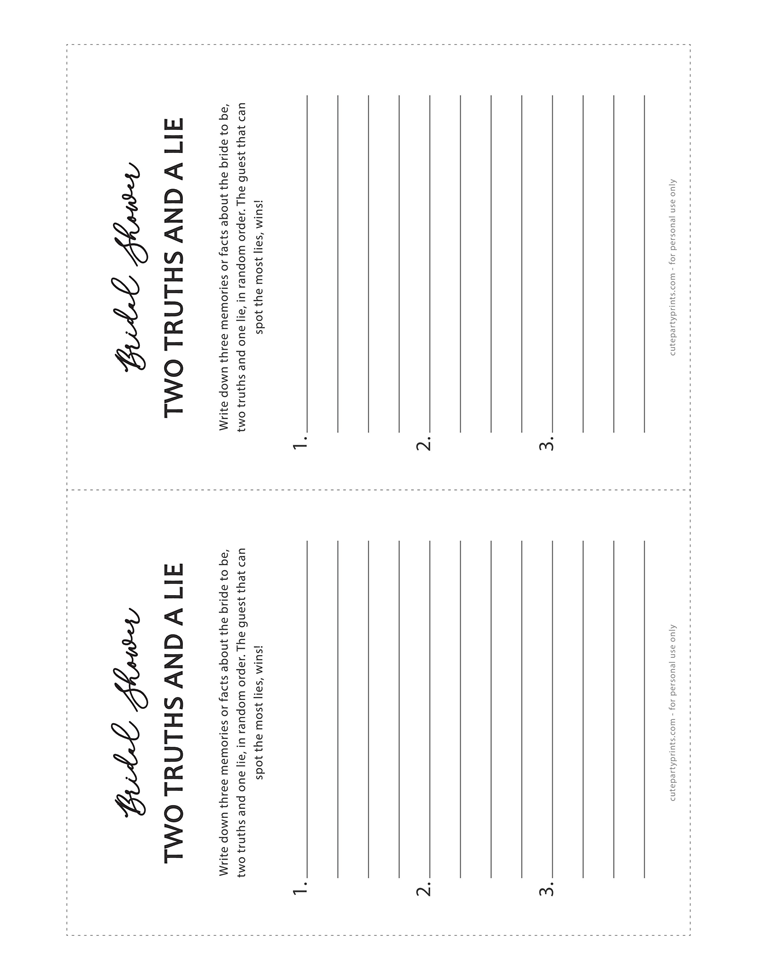 What kind of stories can guests write for the game?
There is no limit to the types of stories guests can write for the game, as long as two of them are true and one is a lie. However, some ideas include:
An embarrassing moment from the bride's childhood;
Funny story about how the couple met;
The time when the bride was extremely daring;
When the bride was caught in a lie;
How she felt about the groom when she first met him;
Their first date fiasco
No matter what stories guests come up with, this game is sure to be a hit at any bridal shower!
Two Truths and a Lie Bridal Shower Game