15 Ideas to host a Fabulous and Budget Friendly Baby Shower
Budget Friendly Baby Shower may sound challenging but it's not impossible. These 15+ ideas will help you throw an inexpensive yet fabulous baby shower that will make for a memorable event for your guests.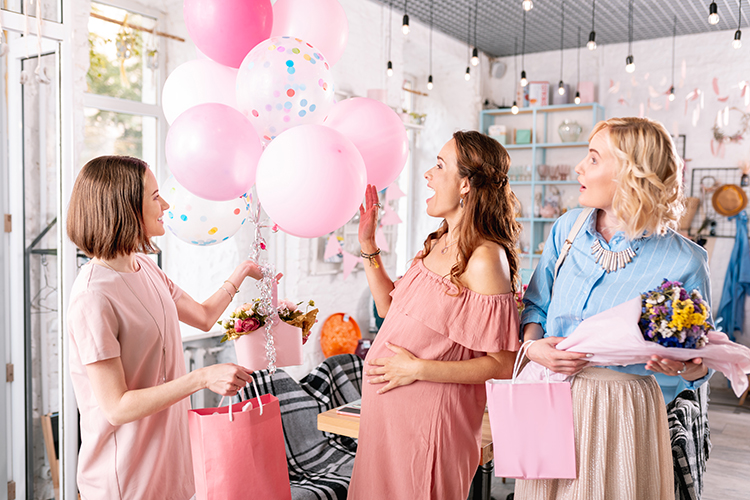 Are you hosting a baby shower for yourself or a friend?
Hosting a beautiful baby shower may sound like fun, but it can get expensive when you add things up! Here are 15+ budget-friendly tips on how to host a baby shower on a budget. You can save money while still putting on a fabulous baby shower for your friend or family member. Enjoy!
How to host a baby shower on a budget?
Hosting an inexpensive yet memorable baby shower may seem challenging, but it's not impossible. Starting from the venue, guest list, menu, decor, party favors – you can take control of things and make sure things don't go out of control.
SHOULD I SET A BUDGET FOR MY BABY SHOWER?
Of course! Setting a budget keeps your finances in check.
#1 Set a budget and have a spending limit
We have seen this more often than not. People often go way beyond their budget because they don't set one. If you don't have an upper threshold on how much money you're willing to spend, chances are you will get carried away with decorations and baby shower favors.
If you've set a baby shower budget, it's easier to stick to that number. Once you have spent more than that limit, know when to stop buying baby shower supplies.
CHECK YOUR GUEST LIST
If you haven't already! Create a guest list and write the names of each guest. Make sure not to create a really long one …
#2. Limit Your Guest List
Make it a small gathering, even though you may not feel like. Since this is such a special event, you'd love everyone to join in the celebrations. But this is where you need to take a step back.
Know your guest list and be selective about who you invite. Try having a baby shower with only your closest friends and family members so that there will be fewer people to accommodate.
Some baby showers are filled with extended family members or acquaintances, which can get out of hand if not planned for. It's okay to tell a busybody aunt or gossipy co-worker that baby showers aren't really her thing!
BUDGET FRIENDLY BABY SHOWER DECORATIONS & STATIONARY
Baby shower decor adds charm and joy to the festivities. But they can be a lot of work. So how about incorporating some free or inexpensive items …
#3 Make your own Baby Shower Banner
Make your own banner for the party by using this free baby shower banner maker. Personalize for a boy or a girl baby shower. You have the options to create flag banners or triangle banners. Choose among many themes available. Simply download, print and decorate your space.
#4 Keep decorations minimal
Baby shower decorations are fun, but the ones on a budget are even better. Keep it simple by using elements you already have in your home, like wrapping paper and baby pictures.
Decorate baby showers using baby-themed streamers, balloons, baby-related baby items (diapers, bottles, baby toys), and flowers. You can make balloon bouquets or cut flower arrangements from fresh pumpkins or baby-themed flowers.
#5 Get decorations from the dollar store
In addition to baby shower favors, you can purchase decorations from the dollar store. Baby shower decorations are among the most common items that you can find in a well-rounded baby shower supplies collection. Look for decorations that don't look cheap.
#6 Create centerpieces using baby items
Don't spend money on baby shower centerpieces – use baby-related items as centerpieces instead! Use a crib-shaped centerpiece to hold drinks, or fill baby bottles with candy for baby shower decorations. Baby items are relatively inexpensive and can help make baby shower centerpieces without spending a fortune.
#7 Set up a DIY photo booth instead of hiring a photographer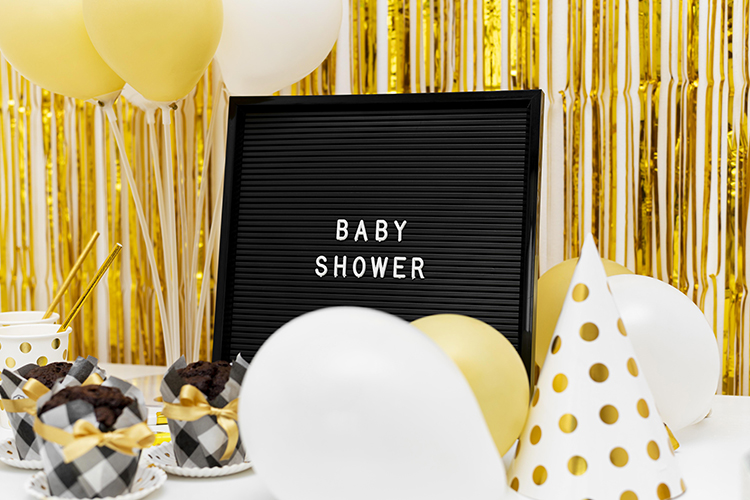 Do you want baby shower pictures but don't want to spend money on baby shower photography? Set up a DIY baby shower photo booth instead of hiring a baby photographer.
Bring out a baby-themed backdrop, and take hilarious baby shower pictures yourself with your camera or phone. You can also purchase digital baby shower picture frames for baby shower favors that work just as well.
#8 Budget Friendly Baby shower invitations
When planning a party, invitations are one of the most important parts of the whole planning. You need to send these out to invite your guests. Stationary for the parties can get expensive, though, especially if you add up the number to send out to each guest.
In order to invite guests, look for invites that don't cost money or are inexpensive. Make your own baby shower invitations using photoshop, or find baby-themed baby shower invitations online.
WHAT IS A BUDGET FRIENDLY VENUE FOR BABY?
What could be a better venue than home … cozy and comfy?
#9 Host your baby shower at home
By having your baby shower at home, you will save significant amount of money instead of renting out an expensive hall. You may have to rent out the chairs, decorations, buy food etc.
Putting together a baby shower party at home setting will be much more convenient. You won't have to run around taking supplies, catered food, gifts from one location to another.
Decorating your own space will be easier when hosting at home rather than at a venue. You will have everything at your arm's length like food, ice, a camera, chargers. Whereas if you host at a venue and forget something, you will be making multiple trips to your home.
HOW TO PLAN THE BUDGET FRIENDLY BABY SHOWER MENU?
Menu and Food are important part of any baby shower. Keep it simple … keep it short. Get your guests to help. How?
#10 Have food catered or make it a potluck
Potlucks are one of the popular choices among partygoers. Baby showers are often more fun when they have a potluck element. You will have a variety of food and desserts.
Guests will get a chance to discuss their recipes, and everyone may find a new one to try at home later on. Just make sure you let all your guests know in advance if you plan on planning a potluck menu so that they can plan accordingly.
You have to be well organized and let your guests know who is bringing what. Create an excel spreadsheet and assign everyone a dish they are comfortable bringing.
#11 Use paper plates and cups
Instead of using expensive silverware or dishes, use paper plates and paper cups. Make sure to pick them up from the store a day or two before the event. It will also help cut down significantly on dishwashing costs. Clean-up after the baby shower will seem like a breeze.
#12 Serve drinks in pitchers or large dispensers
If you are serving drinks, consider doing them in baby-themed baby bottles or baby-themed pitchers. It will cut down on the need for baby shower cups and save you money by not having to buy baby bottle drink glasses or individual baby shower cups. You can also use large dispensers that don't have to be baby-themed.
BUDGET FRIENDLY BABY SHOWER GAMES & ACTIVITIES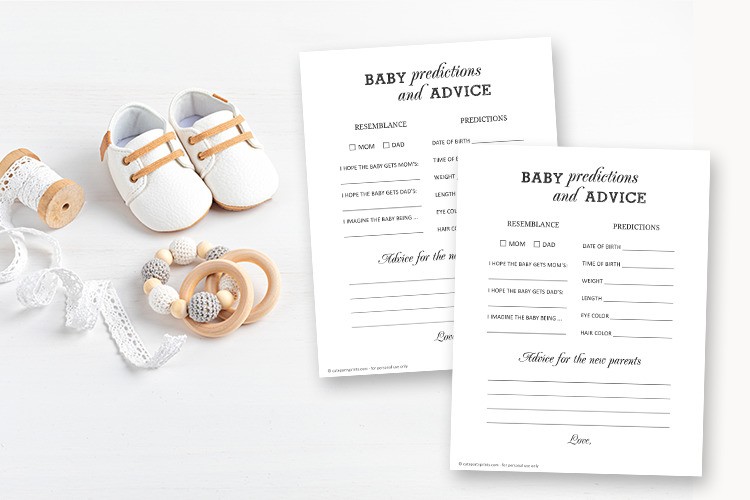 Baby Shower games and activities are important to keep guests engaged and entertained. Make sure to include at least 3 – 5 games. Depending on how simple or complex the game is, it can take close to an hour or two to play these games.
#13 Printable Baby shower games
Instead of buying baby shower games, make your own games and party favors. You can also download free printable baby shower games. It's easy and inexpensive to make the games and activities at home, and they'll be a lot more personalized than pre-made baby shower games.
Baby shower favors are lovely, but baby shower games are even better! A baby shower game can provide entertainment for guests, help break the ice between strangers, and maybe be more memorable than baby shower favors.
Baby shower games like guess the due date or baby predictions and advice for new parents make for keepsakes for years to come!
WHAT ARE SOME BUDGET FRIENDLY BABY SHOWER GIFTS?
You don't have to spend a fortune on buying baby items. Just …
#14 Ask guests to bring a gift card instead of a physical gift
Instead of asking guests to bring baby shower gifts, ask them to bring a gift card or other contribution for the baby. Inviting guests to contribute to diaper expenses can be helpful. People love shopping for and giving baby stuff, so chances are you'll get more than one gift.
#15 Baby clothes as baby shower gifts
Don't spend money on baby shower baby clothes – ask the guests to bring baby clothes or baby products. Your guests will enjoy picking out precisely what baby clothes they want to bring, and it reduces baby shower expenses for you. Win win for everyone!
ARE BABY SHOWER PRIZES NECESSARY?
Not really …
#16 Budget Friendly Baby shower prizes
Baby shower games are fun, but it isn't necessary to have baby shower prizes. Consider baby shower activities that don't require baby shower prizes. If you do want to keep the prizes for the winners, get the ones that aren't very expensive.
For example, if you plan on playing Candy Bar Baby Shower Game, get the mini candies as a prize. Similarly, for The Price is Right, give out one of the items on display as a prize to the winner. Don't overspend on the prizes. You can make homemade crispies or cookies and give them out prizes.
WHAT TIME IS GREAT FOR THROWING A BABY SHOWER?
Sometime in the afternoon …
#17 Timing for the baby shower
Many baby showers are held in the afternoon to help avoid baby shower guests staying too late. If they attend your baby shower in the afternoon, they may have already had their lunch, so only snacks or light food items should suffice. If you're planning a baby shower, consider setting baby shower time from 2 to 5 p.m. for baby shower party times.
#18 Don't be afraid to ask for help
Finally, if you need help, don't hesitate to ask for volunteers! Family and friends normally love the chance to participate in something as unique as a baby shower. Ask your close contacts if you need help putting baby shower games and favors together, or anything else that's party-related.
So, whether you are planning your own shower or helping a friend out, we hope these tips provide you with everything you need to make the day special – without breaking the bank. We hope these ideas help you throw a wonderful celebration that both mom and dad will remember forever.
What is your favorite budget-friendly baby shower tip? Let us know in the comments!