Bridal Shower Scattergories
Download printable bridal shower scattergories listing. For more similar games templates, browse our free printable library. Simply download and print them at home or office.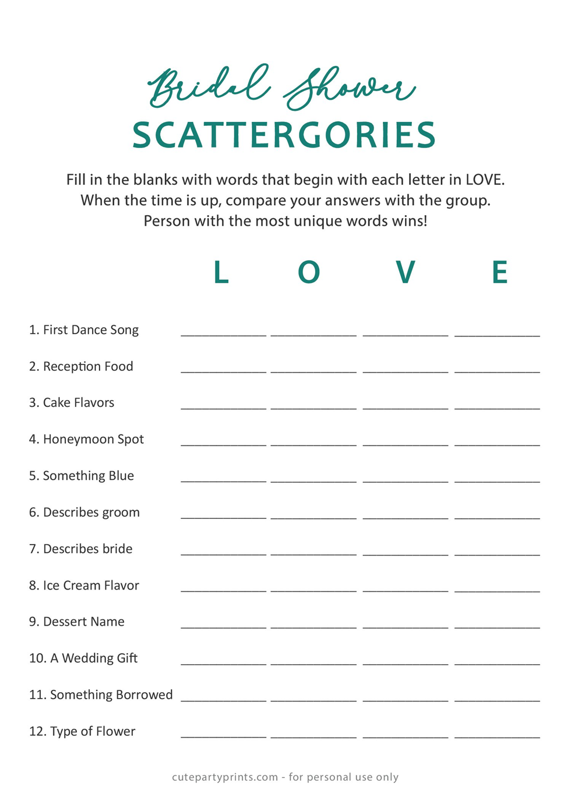 Bridal Scattergories is a fun bridal shower game that will keep your guests laughing and chatting for long! This game is perfect for groups of any size, and it's a great way to get everyone interacting.
We've created a free printable version of the game, so all you need to do is download it and print out the cards. Guests will love trying to come up with words against the prompts given on these cards!
How to play Bridal Shower Scattergories?
You don't need any fancy preparations or supplies to play this game. You only need a few supplies:
These printable game cards for each guest;
Pens or Pencils;
Prizes
Preparation:
Print on standard letter size paper and cut out each game card.
Make sure to print these game cards on thick cardstock paper. It will give a professional look to your game cards, and guests will have an easy time writing on the heavy cardstock game cards.
Set the timer.
How to play?
When all the guests are gathered in one room, and seated, pass along the printable game cards.
Start the timer as soon as everyone is ready. Set it to 3 - 5 minutes.
As per the game instructions, guests have to write words corresponding to each prompt. Each word should start from the letter listed on top of each row. This game comes with the letters L, O, V and E.
When the timer goes off, ask your guests to stop writing.
Each guest takes a turn reading their answers.
If someone else has that answer on their game card, they both cross off their answer.
Each unique answer gets a point.
The person with the most correct answers wins!
Here are some more variations of this game. Download the one you like to play for your bridal shower party.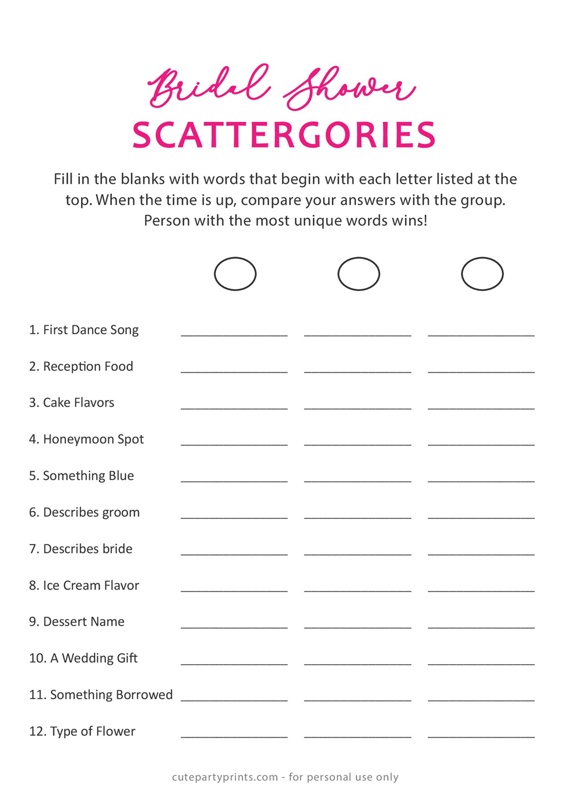 Bridal Scattergories (Pink)
This is a different version of Bridal Shower Scattergories where you can pick random letters to start the word from. Two 5x7 inch game cards are printed on standard letter size paper.
Print Download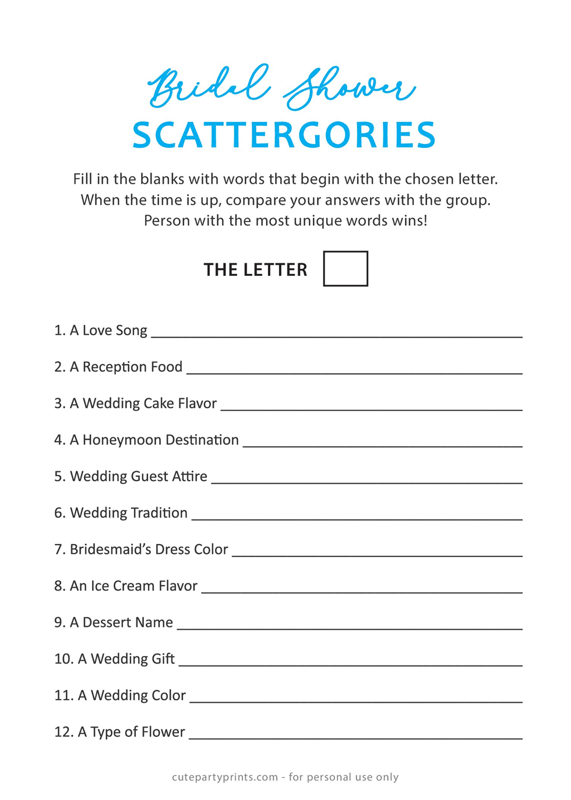 Bridal Scattergories (Blue)
Download and print Bridal Shower Scattergories. To play this game, randomly pick any letter from a basket or have one of the guests pick an alphabet.
Print Download
There may be multiple winners in this game. Make sure to get prizes for all the winners to keep the game exciting. Check out these Bridal shower games to make your next party memorable and fun!
Bridal Shower Scattergories