Bridal Shower Word Scramble
Download printable bridal shower word scramble listing. For more similar games templates, browse our free printable library. Simply download and print them at home or office.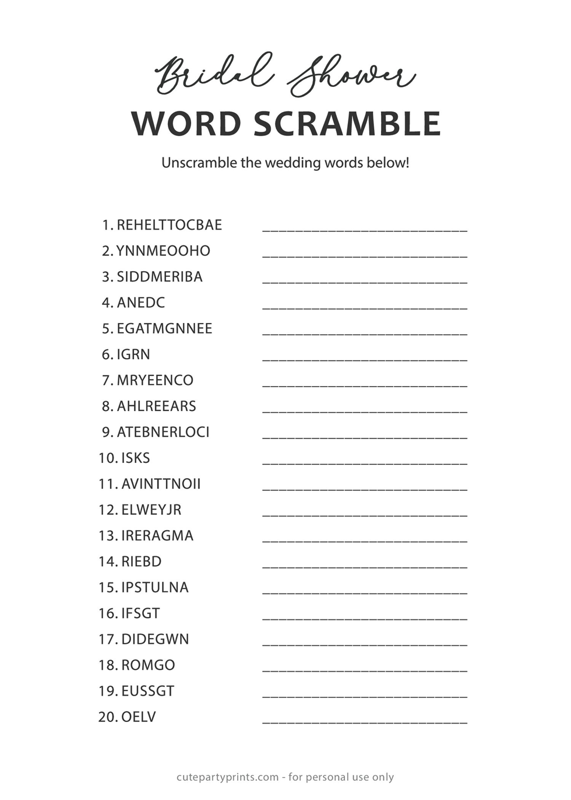 Download free printable Bridal Shower Word Scramble for your bridal shower party. It is the perfect wedding-themed word scramble game that is easy to play and will keep your guests entertained for hours!
How to play Bridal Shower Word Scramble?
This printable game can be played anywhere, anytime. You just need a pen or pencil and some paper to get started. The best part about this game is that it doesn't require any special skills or knowledge – anyone can play!
SUPPLIES:
Printable Word Scramble Sheets
Pens or Pencils
Prizes (for the winners)
How to play?
This super simple game is perfect to play during the gift opening time of the party. Use this word scramble as an icebreaker or just add it into the mix of other games you already have planned.
Print the printable sheets on heavy cardstock paper. This will give it a professional look and guests will be able to write easily on cardstock paper.
Pass the printable sheets and pens or pencils to the guests.
Ask them to unscramble wedding related words listed on these sheets.
You can use the timer or let the guests play it casually, handing them the sheets as they arrive.
Finally, compare all the answers with the included answer sheet. The person with the most correct answer wins!
There may be multiple winners in this game. Make sure to get prizes for all the winners to keep the game exciting. Check out these Bridal shower games to make your next party memorable and fun!
Bridal Shower Word Scramble