Find the Guest
Download printable find the guest listing. For more similar games templates, browse our free printable library. Simply download and print them at home or office.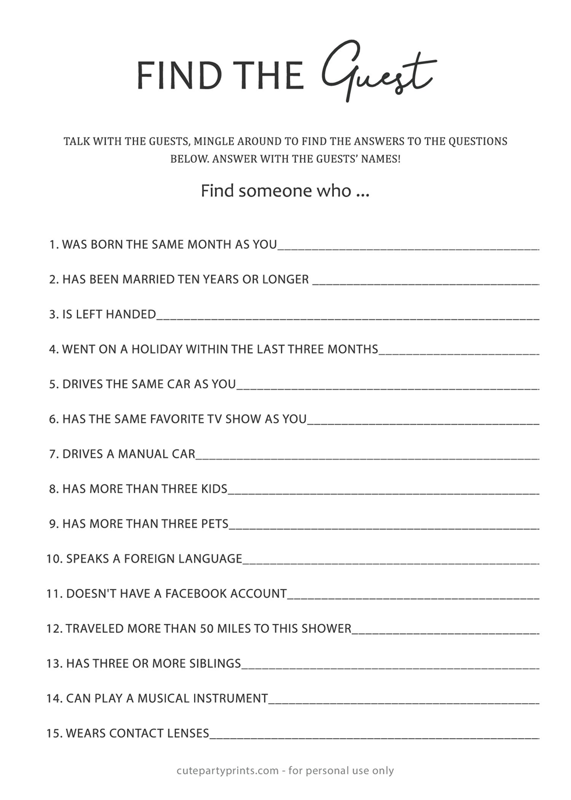 Download free printable Find the Guest Bridal Shower Game for your bridal shower party. The objective of this game is for the guests to find someone who fits a certain description. It is a great bridal shower ice breaker game because you get to meet new people.
How to play Find the Guest?
Find the Guest game is the perfect icebreaker or get-to-know each other activity that you can start as the party starts or before the bride arrives!
SUPPLIES:
Printable Find the Guests Sheets
Pens or Pencils
Prizes (for the winners)
How to play?
Find the Guest is a fun and entertaining game that can be played as the party starts. Here are simple steps to play this fun game.
Print the Find the Guests printable game on heavy cardstock paper. This will give it a professional look and guests will be able to write easily on cardstock paper.
Pass the printable sheets and pens or pencils to the guests.
Ask them to mingle with other guests and find someone who fits the descriptions on their sheet.
You can use the timer to get your guests in competitive mode or keep the tone casual and let the guests play it casually, so they take time to talk to other guests.
The person with the most correct answer wins!
Chances are you may have multiple winners, so keep multiple prizes just in case. Guests are sure to enjoy this game since whatever awkwardness they might be feeling at the beginning of the party may fade away as they play this game.
Check out these Bridal shower games to make your next party memorable and fun!