Who Knows Daddy Best Baby Shower Game
Download printable who knows daddy best baby shower game listing. For more similar games templates, browse our free printable library. Simply download and print them at home or office.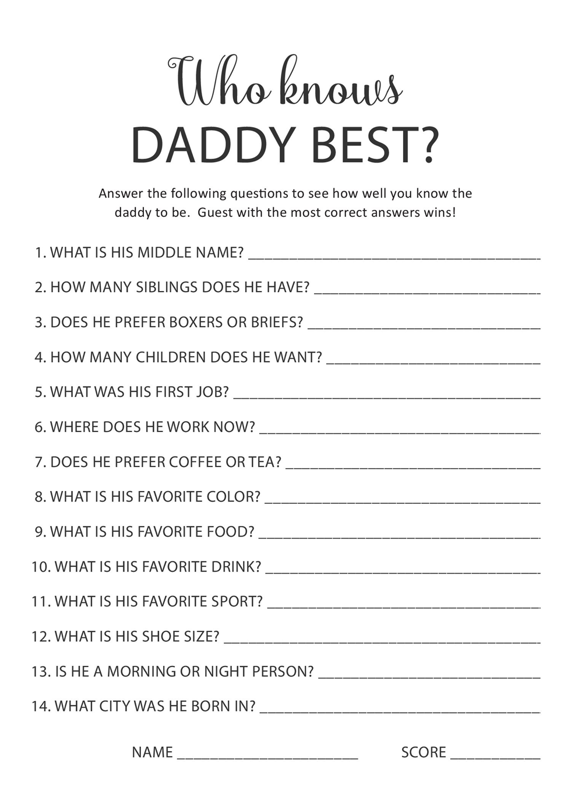 Who Knows Daddy Best Baby Shower Game is a fun and interactive game where guests must answer questions about the dad to be. To play this game, download, print, and enjoy!
Baby showers are a time for family and friends to come together, celebrate the new arrival, and have fun. Many different activities can be included in a baby shower, but one of the popular games is called Who Knows Daddy Best.
This game allows everyone to get to know the expecting father better and has some laughs along the way.
How to play Who Knows Daddy Best?
You will need these supplies to play this game:
Printable Who knows Daddy Best Game Sheets for each guest
Pens or Pencils
Prizes
How to play:
Before starting the game, have the dad to be answer all the questions on this printable sheet. This will be your answer key.
Give the printable sheets and pen or pencil to each guest.
Ask them to answer all the questions about dad to be.
Have them write their name and scores.
The person with the most correct answers will be the winner!
If there is a tie, ask a tie-breaking question. Whoever yells the answer first wins the game.
Make this baby shower game even more exciting by setting the timer. Guests will enjoy answering the questions about the father.
Who Knows Daddy Best is an invaluable addition to any baby shower because it not only allows your guests to get creative and show off their knowledge about daddy-to-be but also provides plenty of laughs along the way.
Setting up this classic baby shower favorite couldn't be easier. Simply download, print, and get ready for some fun times ahead! Download the matching Who Knows Mommy Best game to make it more exciting.
Check out our other baby shower games to make your event, even more, fun and memorable!
Who Knows Daddy Best Baby Shower Game