Who can Finish Mommy's Phrase?
Download printable who can finish mommy's phrase? listing. For more similar games templates, browse our free printable library. Simply download and print them at home or office.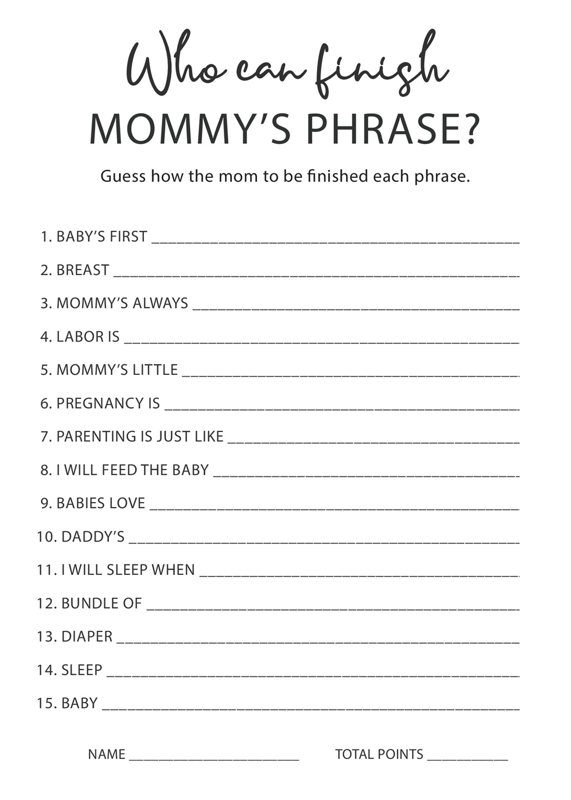 Who can Finish Mommy's Phrase is a creative and engaging baby shower game. Guests will love trying to finish mommy's phrases, and it'll be a great way to break the ice. So download the game today and get ready for some laughs!
How to play Who can Finish Mommy's Phrase Baby Shower Game?
To play this game, you will need:
Printable Game Cards for each guest and the mom to be;
Pens or Pencils;
Prizes for the winner
Before you start playing ...
Give a printable game to the mom to be and ask her to complete all the phrases. This will be used as an answer sheet when all the guests are done writing their answers to these phrases.
To Play ...
To start playing this game,
Pass along the printable game cards to the guests, along with pens or pencils.
Ask them to finish the phrases on these game cards.
To make it a bit more exciting set the timer and start it once everyone is ready to play.
Have the guests exchange their game cards with their neighbors on their right.
The host will read out loud all the finished phrases that mom to be completed earlier.
The person with the most correct answers wins!
Who can Finish Mommy's Phrase? is sure to make your baby shower a memorable and fun event. All you have to do is download, print, and play!
Who can Finish Mommy's Phrase?