How Many Kisses for the Mommy To be?
Download printable how many kisses for the mommy to be? listing. For more similar table signs templates, browse our free printable library. Simply download and print them at home or office.
"How many Kisses for the Mommy to be" is a fun and interactive activity for your next baby shower. This free printable sign and cards are the perfect addition to your gender-neutral baby shower. Guests will have to guess how many candies are in the jar in order to win a prize. Download and print today!
The premise of this game is simple: guests will have to guess how many candies are in a jar. The guest who guesses correctly or gets closest to the correct answer wins a prize.
Are you looking for a fun baby shower game?
This game is really easy to set up and play, so even busy moms won't have trouble finding time to organize it. It encourages guests to interact with each other, which makes for more fun conversations throughout the day!
Also, everyone loves winning prizes, so they'll definitely enjoy playing this game at your baby shower.
How to play Guess How Many Kisses for the Mommy to be?
This one is a great game to play at the gender neutral baby shower party because there are no complicated rules or instructions to follow. You will need the following supplies:
Free printable sign and cards! You can download and print it out as many times as you need.
Some candy, either store-bought or homemade! Put them all into one big jar so that guests can try to guess how many candies there are in total.
Prizes - these can range from small tokens like keychains or mugs to bigger items such as gift cards or spa packages.
All you have to do is print these sheets and cut out the small cards. When you are ready to play, distribute the cards among the guests.
Guests can write their names and the total number of kisses on their respective cards.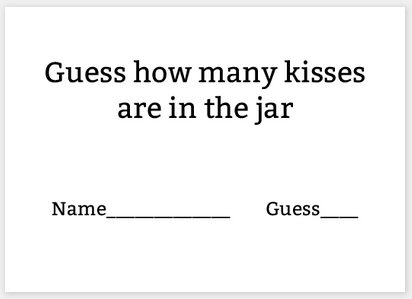 When everyone has guessed, collect their game cards. The person with the closest answer to the number of kisses without going over wins! You can reward them with a sweet treat or even this jar of kisses!
How to edit the How many Kisses Game Cards?
You can either download and use the included cards sheet that comes with this printable sign. To customize your own cards, you can edit the How many Kisses game cards by visiting here and adding or removing the text.
Change the text message on these cards. The finished size of each card is 3.5"x2.5" but you can change the size as well. These are more size options - 3.5x2 inches and 3.8x2.8 inches.
Make sure to check out our other baby shower games, too, to make your event even more fun and memorable!
How Many Kisses for the Mommy To be?