Elephant Baby Shower Invitation
Download printable elephant baby shower invitation listing. For more similar baby shower templates, browse our free printable library. Simply download and print them at home or office.
Elephant baby shower invitation templates are perfect for your baby shower party. You can make your own baby shower invitations and add all the details. Just download, edit, save and print.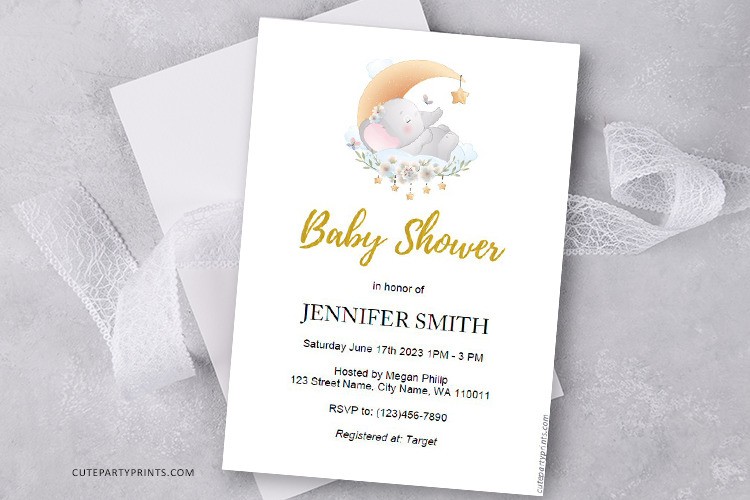 Looking for a super cute elephant baby shower invitation? You've come to the right place! Our baby shower invitations are perfect for your elephant themed baby shower party.
Editable Elephant Baby Shower Invitation Templates
They are editable pdf files, so you can customize them yourself and add all the details about your upcoming shower. We know that planning a baby shower can be a lot of work, but with our cute invitation templates, it will be a breeze!
Just download these elephant baby shower invitations, print them out, and you're ready to go! We recommend that you print them on high-quality paper for the best results. You can choose from a variety of colors to match your party theme.
How do you make Baby Shower Invitations?
Making baby shower invitations can be a lot of fun, but it can also be a little daunting. Just download this template, at the end of this post and open using Adobe Reader.
You will be able to edit all the details in this invitation, except the words "Baby Shower". To make these invitations, just add the name of the mom-to-be, the date and time of the shower, as well as all of the other important information.
How to edit the Elephant Baby Shower Invitation?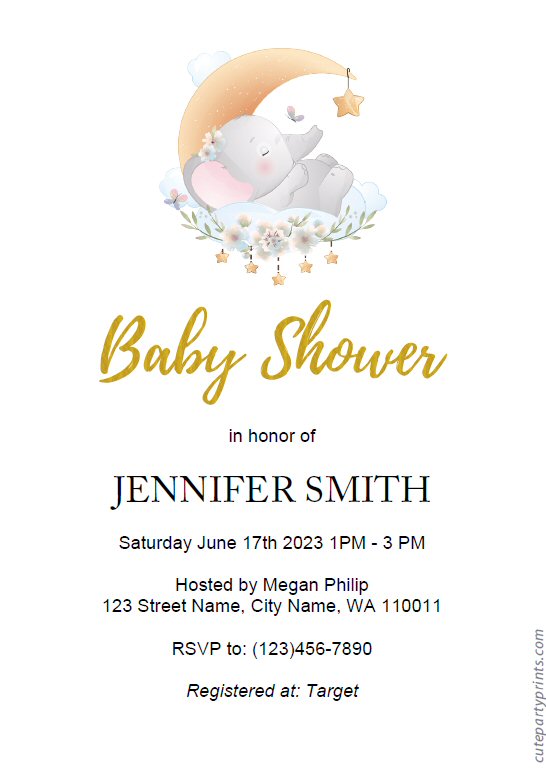 You can make changes to the font style, size, text color, alignment, and spacing.
For editing the contents and other properties like color, font, size, etc., highlight the text and press
Ctrl + E (for Windows OS)
Cmd + E (for Mac OS)
and this will open up the properties bar.
Visit How to edit PDF Files for more details.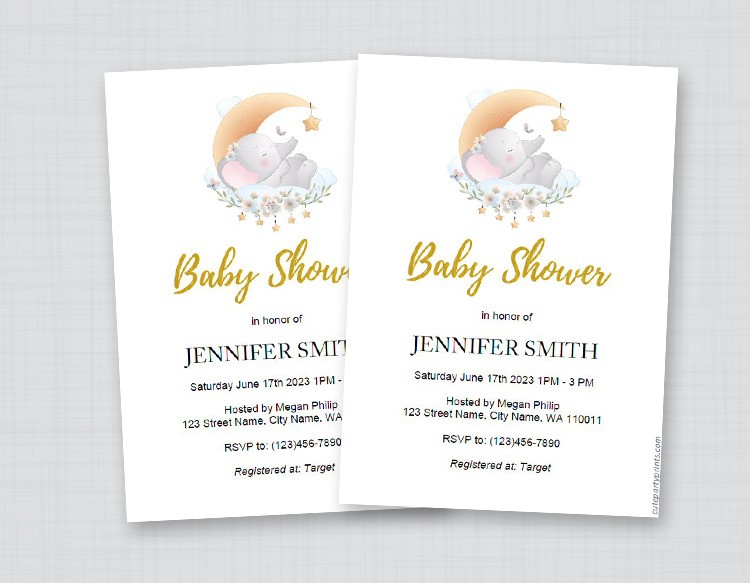 What to write in elephant baby shower invitations?
There's no one formula for what to write in baby shower invitations - it all depends on the particulars of your event. But some basic information that should be included is the date, time, and location of the elephant baby shower invitations.
Include major details like the date and location of the event.
Add mom's name, Address and RSVP information.
Where mom to be is registered (optional).
When should you mail out the baby shower invitations?
Ideally, you should mail out the baby shower invitations about four to six weeks before the event. This will give your guests plenty of notice about the event, and they'll have more flexibility with their schedules as well.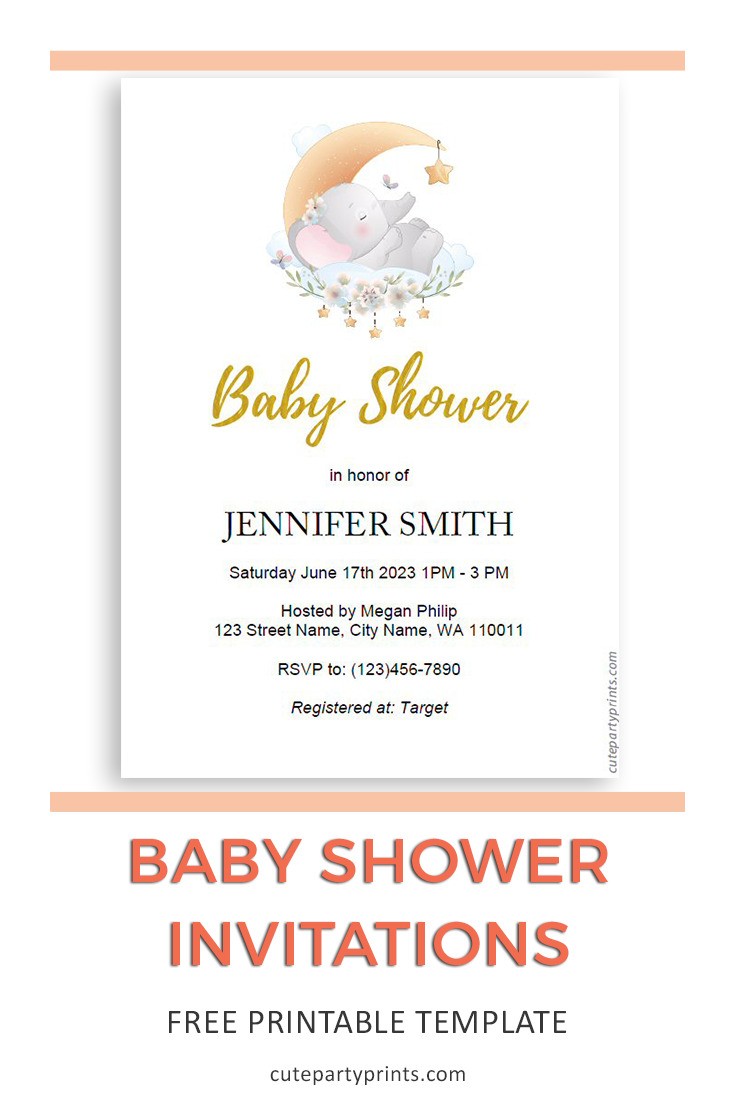 But if you're running short on time, don't worry! You can always print them out yourself and hand deliver them.
What is the best time to start a baby shower party?
The best time to start a baby shower party is between noon and five o'clock. Also, it is usually better not to host the event on Sundays because people are more likely to be busy with church or other activities that day of the week.
Is there a specific day for Baby Shower?
Baby showers can be held any day of the week except for Sunday or Monday! If you're looking for a specific date, we recommend choosing a Saturday or Sunday.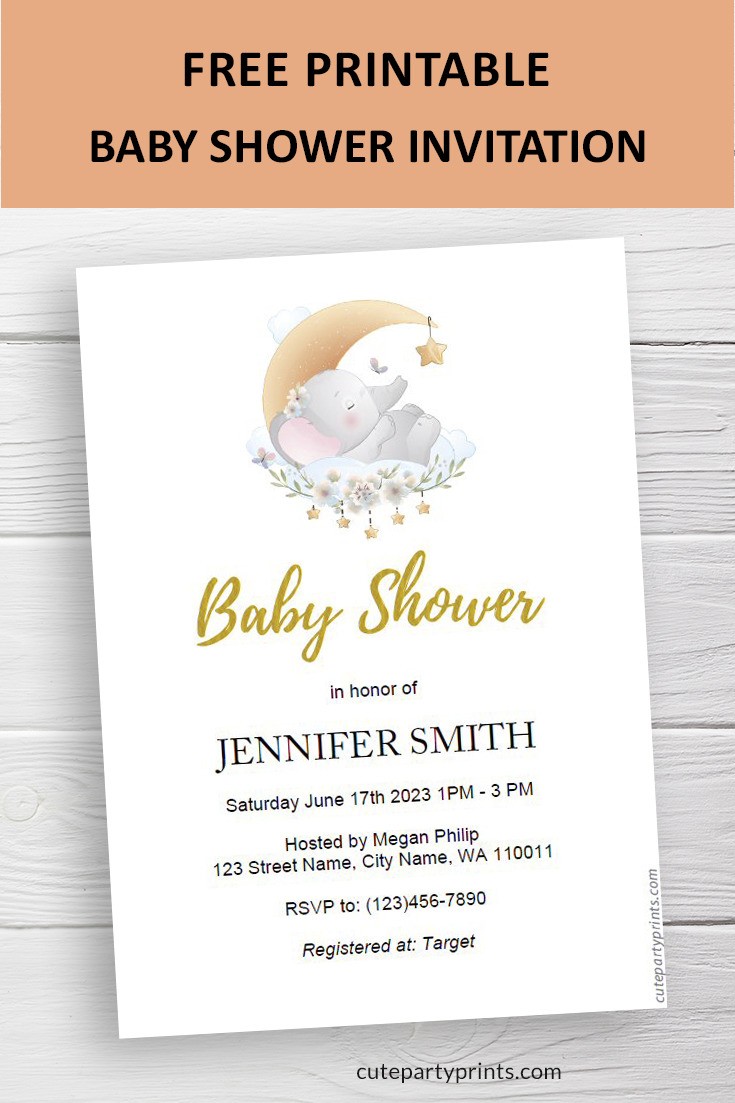 We hope that you find our elephant baby shower invitation helpful! Have a wonderful day!
Elephant Baby Shower Invitation