Place Cards Generator
Create free place cards from premade templates or from scratch. Customize easily with our free place cards generator.
Card Size
Settings Line #1
Settings Line #2
Guest List
(name, table)
Need Help?
Click here
to check the functionality of controls.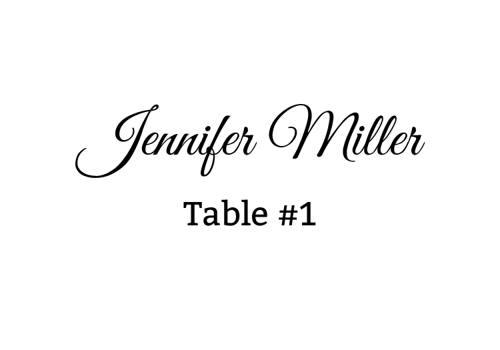 NOTE: Make sure to refresh the preview for changes to apply (if any).
In progress - Please wait....
Tent Cards Generator
Planning a fun event for family and friends?
Place cards are a must-have when it comes to your special occasion. Place cards make it easy to plan and organize your event seating. Guests will find it convenient to locate their table without any confusion. Plus you get tons of credit for making your event stylish and super easy for everyone to find their way around.
Creating these place card templates is extremely easy. Simply edit or add the text, hit "Refresh Preview". Click on "Preview Sample" to see how they look. Make more modifications if you wish. Once you are satisfied, click "Download". Once downloaded, print them, cut along trim lines and then fold them into place cards.
It is best to print these place cards on card stock paper so they are strong enough to stand up when you fold them.
You have the option of downloading and printing these cards on different sizes like letter size, post card size, business card size and more with flat and folded options. Recommended to print on heavy weight cardstock paper.