Celebrity Baby Name
Download printable celebrity baby name listing. For more similar games templates, browse our free printable library. Simply download and print them at home or office.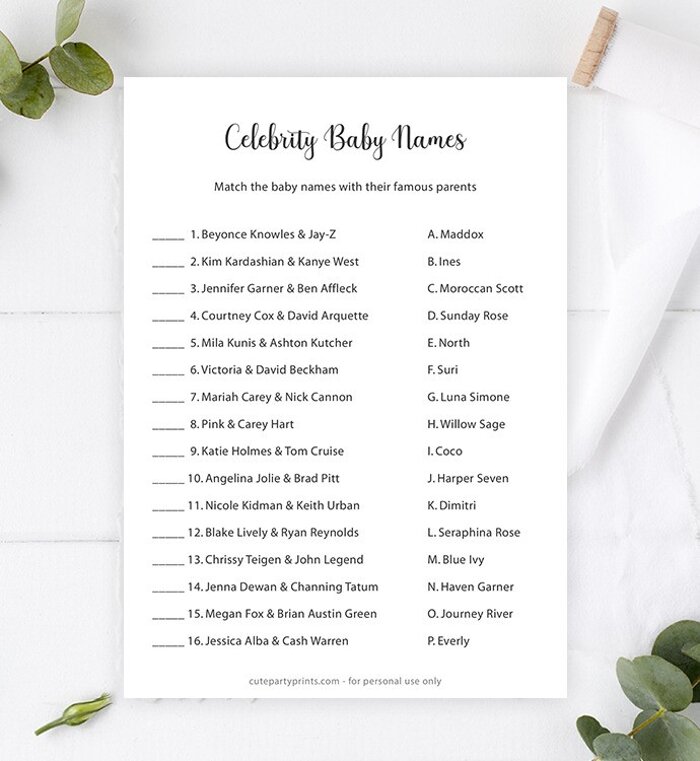 Printable celebrity baby names is a fun baby shower game where guests have to match the baby names with their famous parents. This is an excellent way to get everyone involved and laughing.
It's also a great way to learn about some of the most popular celebrity babies. Download and print the game and get ready for some laughs!
How to play celebrity baby name game?
You will need the following supplies:
Printable game sheets;
Pens or Pencils;
Prizes
To start playing:
Distribute printable game sheets among each guest along with a pen or pencil.
On the right side of the printable game sheet, there is a list of baby names. On the left side, there is a list of famous parents.
Guests will have to match up the baby names with their famous parents.
You can set the timer to make it more challenging.
The first person to get all of the matches correct wins the game!
So how about downloading this fun baby shower game and adding some fun to your gender neutral baby shower!