Diaper Raffle Baby Shower Game
Download printable diaper raffle baby shower game listing. For more similar table signs templates, browse our free printable library. Simply download and print them at home or office.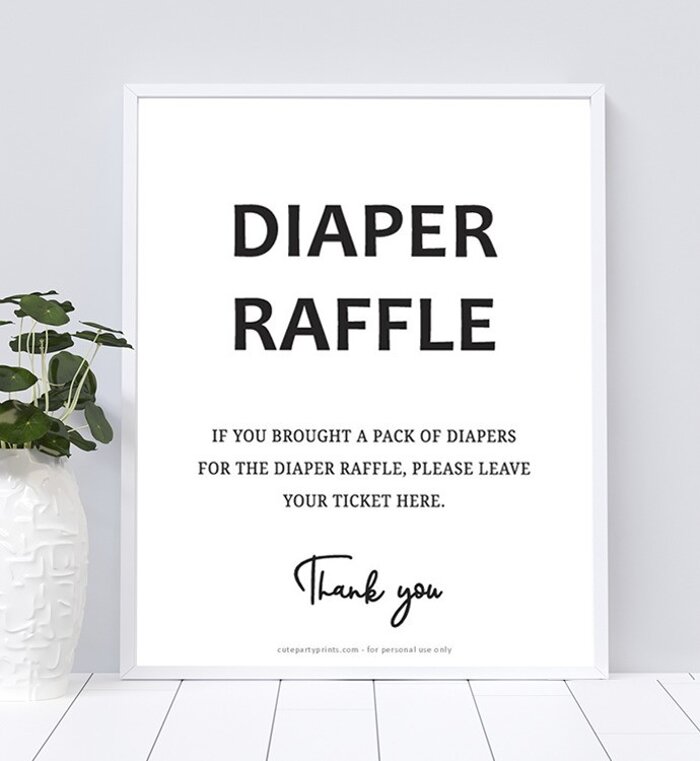 A diaper raffle is a fun and entertaining baby shower game where guests bring a pack of diapers to the shower, and they are entered into a raffle. The winner gets a prize randomly picked by a host.
The basic idea behind this game is to help the parents-to-be stock up on diapers! It is a fun way to get everyone involved in the shower and a practical way to help out the new parents.
How to play Diaper Raffle Baby Shower Game?
A diaper raffle is a way for guests to win prizes by bringing diapers to the shower. You can set up the diaper raffle game very easily. You will need the following supplies:
Printable Diaper Raffle Sign and tickets;
A bowl;
A basket or container to collect the diapers;
Prizes
To play,
Guests bring a pack of diapers to the shower;
They receive a ticket as they put their pack of diapers in the collecting basket;
The tickets are then placed in a jar or bowl and drawn randomly;
The winner receives a prize, often donated by the hostess.
This game is a fun way to add excitement to a baby shower and help the parents-to-be stock up on diapers!
Free Printable Diaper Raffle Sign and Tickets
To download this diaper raffle sign and tickets, scroll down to the bottom of this page and click on the green download button. You will also be able to print right from the same spot.
This easy-to-set-up game is a no brainer. There are no fancy supplies and no major preparations required.
Diaper Raffle Tickets are available to download here.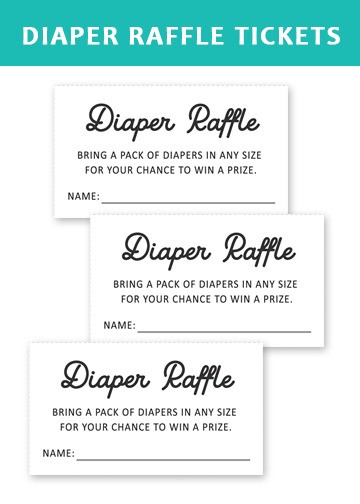 Once you download, you can print the sign and tickets at home. The finished size of the table sign is 8x10 inch and there are 10 raffle tickets to be printed on letter size paper. After printing, you can cut along the trim lines to cut out 10 tickets.
How to tell guests about Diaper Raffle before the baby shower?
If you're planning to have a diaper raffle at your baby shower, you can do a few things to make sure your guests are prepared.
First, you'll need to let them know about the raffle in advance. You can do this by including a note in the invitations or posting about it on social media or your baby shower website.
Provide all the details, including what types of prizes will be awarded and how many diapers each guest should bring.
Then, on the day of the shower, set up a display with the raffle tickets and prizes so that guests can easily find everything they need.
Finally, announce the winners at the end of the shower! With these tips, your diaper raffle is sure to be a success.
Diaper Raffle Baby Shower Game