Fall Baby Shower Bingo is perfect for a Fall themed baby shower party. A fun addition to your baby shower games, this one is sure going to be a blast among your guests.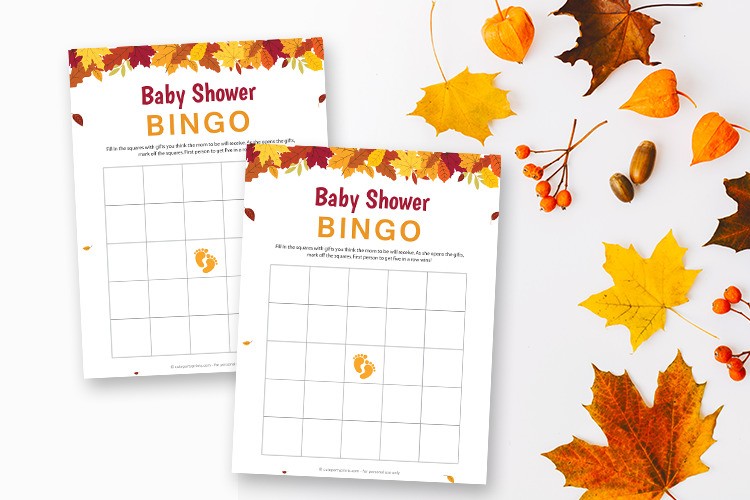 This post contains affiliate links and we will earn commission if you buy the products through those links. For more information, please read our disclosures here
Baby Shower Bingo is one of those traditional games that are still most played as one of the most popular baby shower games.
This no prep baby shower game has two versions – blank and prefilled.
Blank baby bingo, also known as baby shower gift bingo comes with empty square boxes. Whereas prefilled or traditional baby bingo has the squares filled in – either with text related to baby or pregnancy or with pictures.
Traditional baby bingo is popular among larger groups.
Fall Baby Shower Bingo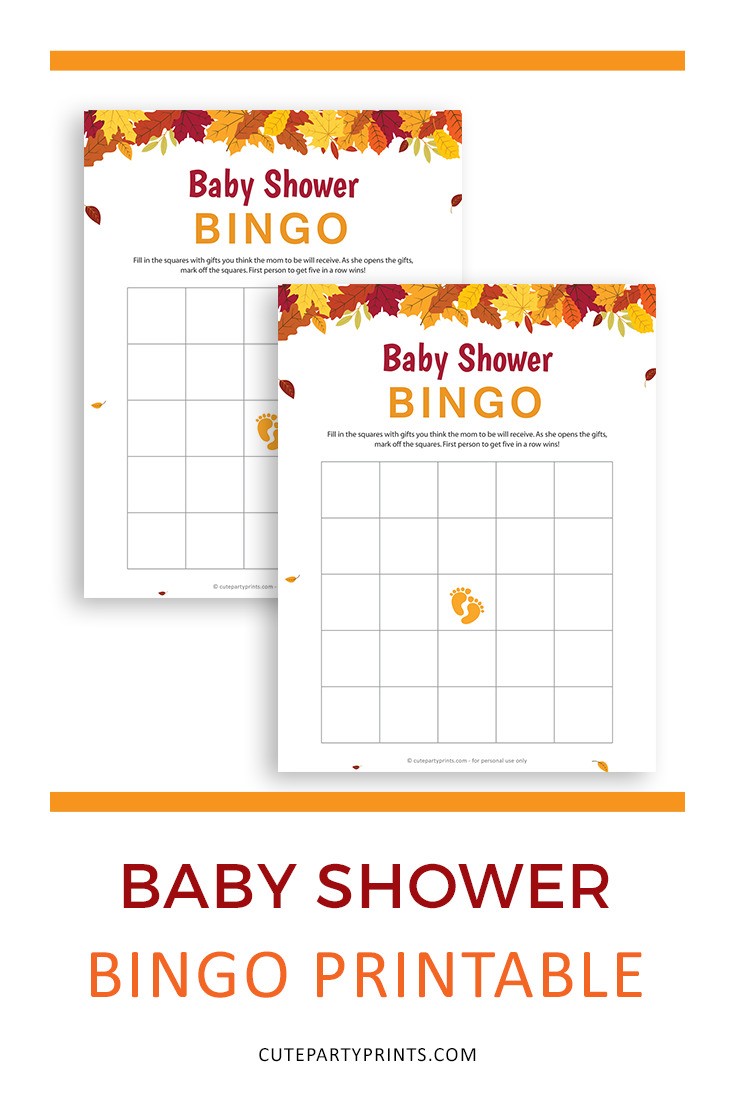 Blank Baby Shower Bingo or baby shower gift bingo is best played among smaller groups. Have your guests fill in the blanks with what they think the new mom will receive.
As the gifts are opened, they will mark off the square boxes on their bingo cards for the gifts they got correct. The first one to get five in a row, wins!
You will need the following supplies to play:
Printed Blank Bingo Cards
A pen or a marker
Fall Baby Shower Bingo
Fall baby shower bingo game cards are perfect to play at a Fall themed baby shower party for a boy or girl baby shower. Thes printable bingo cards will go perfectly with your autumn themed party.
Print Download
To start playing,
Give each guest a blank bingo card, a pen or marker.
Ask them to fill the empty squares with the gifts they think the mom to be will receive.
Once they have filled the squares, mom to be will open her gifts.
Guests mark off the squares they got correct.
First person to get all five in a row, wins!
Download your free printable Fall Baby Shower Bingo Cards and make your Autumn themed baby shower event the most memorable one!