Dont say Santa
Download printable dont say santa listing. For more similar christmas templates, browse our free printable library. Simply download and print them at home or office.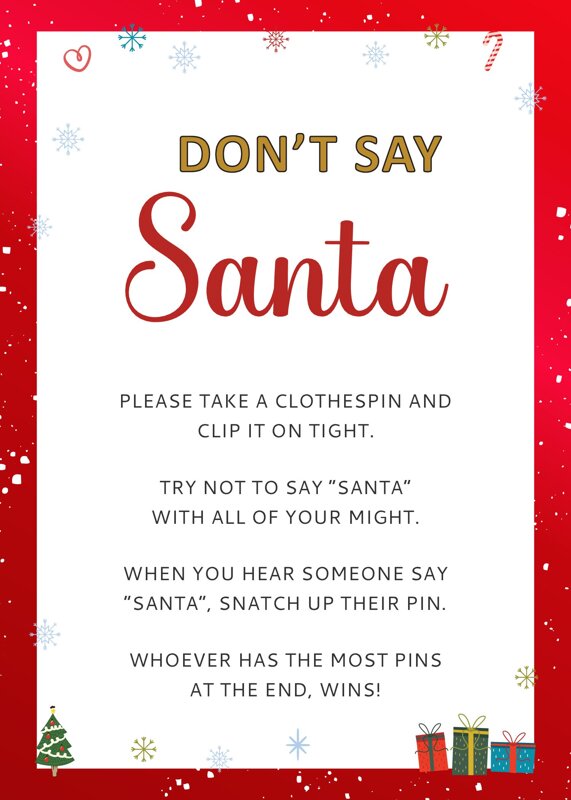 The "Don't Say Santa" Christmas game is a fun and entertaining addition to Christmas parties. This printable game brings a unique twist to the traditional holiday gathering by introducing a rule that participants must avoid saying the word "Santa" throughout the event.
Just download and print the template. Since no special preparations or expensive supplies are needed to play this game, organizing it for a party or family gathering is quite a hassle-free task. Guests can engage in conversations, activities, and festivities while being mindful of the forbidden word, adding an element of fun and anticipation.
This game sparks laughter and encourages guests or colleagues to stay on their toes and be attentive to their words. It's a simple yet effective way to add to the holiday celebration with a sense of humor and camaraderie, making any party a memorable and enjoyable experience for all.
Christmas Party Game Printable.
Perfect for an office holiday party or a family gathering.
Print and download.
Instant Download.
Files are non editable.
No physical items shipped
No refunds
====================================================
Please note that the files are non-editable and will come as shown in the preview images. Make sure to check the text and design, before making the purchase, and most definitely before printing.
PLEASE NOTE:
There will be no refunds once a digital file has been sent out. If you need any revisions to the PDF, please feel free to contact us, we can certainly work with you to resolve any issues.
Colors may vary depending on the monitor and printer styles and settings.
These files can be printed for your PERSONAL use only. Redistribution by any means is prohibited.
INSTANT DOWNLOADS:
Your files will be available to download instantly. There will be no physical items shipped.
Package Details
(ZIP Archive)
| | File Name | Size | Type |
| --- | --- | --- | --- |
| | dont-say-santa-2-cards.pdf | 856.10 KB | PDF |
| | dont-say-santa_8.5x11.pdf | 715.27 KB | PDF |
| | dont-say-santa_8x10.pdf | 710.11 KB | PDF |
| | dont-say-santa-2-cards.jpg | 498.55 KB | JPG Image |
| | dont-say-santa_8.5x11.jpg | 430.58 KB | JPG Image |
| | dont-say-santa_8x10.jpg | 377.48 KB | JPG Image |