What's in your Purse Baby Shower (Blue)
Download printable what's in your purse baby shower (blue) listing. For more similar games templates, browse our free printable library. Simply download and print them at home or office.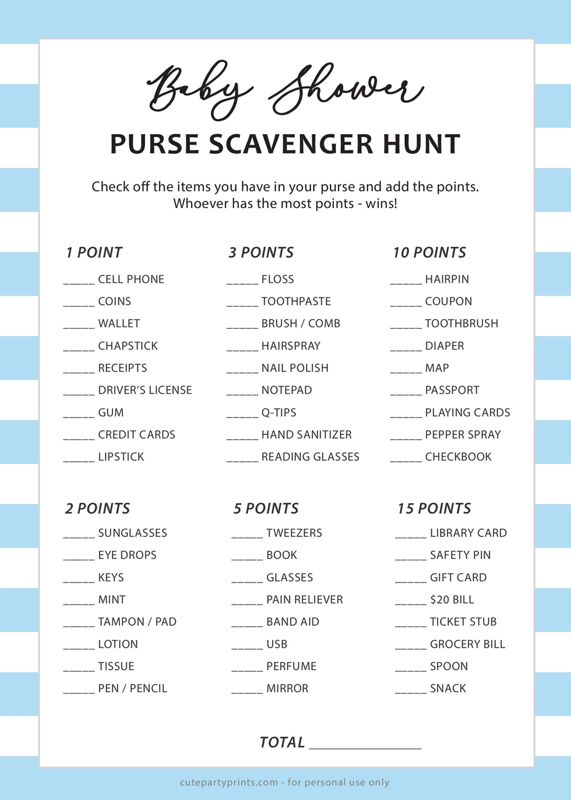 Free Printable Purse Scavenger Hunt is a fun and entertaining game for your baby shower party. Enjoy the giggles when guests raid their purses looking for items listed on these printable game sheets.
How to play What's In Your Purse Baby Shower Game?
You will need the printable What's In Your Purse Game sheets, pens or pencils, and prizes.
To start playing,
Download and print What's In Your Purse Game. It's recommended to print on thick cardstock paper to give these a professional look. Your guests will also find it easy to write on heavier paper.
Distribute the printed game sheets and the pen or pencil to each guest.
Guests look through their purses/handbags to find the items listed on these game sheets.
Different points are allotted to each item. As each guest finds an item in their purse, they checkmark that item.
At the end of the game, they add up all the numbers and write their total.
The person with the most points wins!
This Baby Shower Purse Scavenger Hunt game is sure to bring out lots of laughs and cheers as your guests raid through their purses looking for items listed on this printable game.
What's in your Purse Baby Shower (Blue)